Crandall legacy endows prestigious professorships, need-based scholarship at DePauw University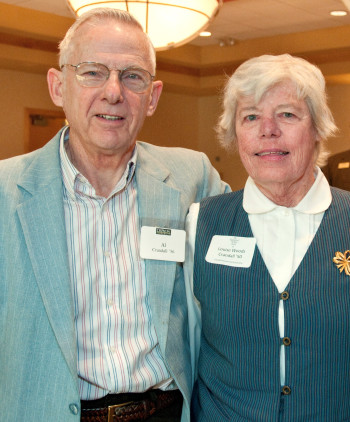 Albert Edwin Crandall '56 and his wife Bertha Louise Woods Crandall '50 were longtime supporters of DePauw.  For many years, the Crandalls contributed at the Named Scholar level, and enjoyed meeting with students who benefited from The Fund for DePauw Scholarships they helped provide. The Crandalls were deeply influenced by their DePauw experience, especially by the university's great professors. They left an estate gift of more than $5 million to endow two professorships, a need-based scholarship fund at DePauw University, as well as support for the university's new School of Business and Leadership. In addition to the large monetary gift, the Crandalls also donated precious artwork consisting of portraits, bronze sculptures and Civil War memorabilia.
With a nod to both the Crandalls' scholarly interests, their multi-million-dollar legacy gift has created the Albert E Crandall '56 Endowed Professorship in History and the B. Louise Woods Crandall '50 Endowed Professorship in Global Health. Such gifts significantly improve the university's ability to attract and retain the strongest faculty members.
The Crandalls' gift also established the Albert E. '56 and B. Louise Crandall '50 Endowed DePauw Trust Scholarship, a need-based scholarship that will enable the university to attract and retain outstanding students from a wide variety of backgrounds who might otherwise be unable to afford a DePauw education. 
"The Crandalls belief in DePauw's important mission is evidenced in their extraordinary generosity which will have a tremendously positive impact on the student experience," said DePauw University President Lori S. White.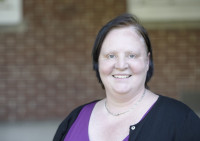 Julia Bruggeman has been named the inaugural Albert E. Crandall '56 Endowed Professor in History. Bruggeman has been at DePauw since the fall of 1999 after completing her doctoral work at Georgetown University in Washington DC. She is a historian of modern Germany and Europe. At DePauw, Bruggeman teaches courses in modern German and European history, focusing on memory, gender, race, war, and political change. 
"It is a great honor to have been selected for the Albert E. Crandall Chair in the History Department," Bruggeman said. "I am grateful to the donors who made this award possible and who, through the establishment of this enduring endowment, continue to support and highlight the importance of the humanities. The award is a privilege and meaningful recognition of the work I've done at DePauw. I am indebted to my colleagues and peers in the history department and beyond, who have set the bar high and have challenged and mentored me over the years. I am excited about continuing to share new ideas, teaching methods, and research with students and peers for many years to come."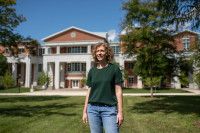 Sharon Crary has been named the B. Louise Woods Crandall '50 Endowed Professorship in Global Health. Crary's research group is currently focused on investigating the significance of particular mutations in the enzyme lactate dehydrogenase. Mutations in this enzyme can lead to exercise intolerance, muscle weakness, or in extreme cases, kidney failure. This project is a collaboration between the Crary and Gurnon labs in the Department of Chemistry and Biochemistry.  Previous research in the Crary lab focused on Ebola and RNA, and on the development of a rapid diagnostic test for Leishmaniasis, a neglected tropical disease. Sharon was instrumental in the establishment of the Global Health Major at DePauw; conducts science outreach, most recently as an American Chemistry Society science coach; works with Social Promise (www.socialpromise.org); and serves as advisor to several student organizations, including the DePauw Neurodivergence Inclusion Association.
I am so appreciative of the generosity of the Crandalls," Crary said. "Their dedication to the Global Health Program at DePauw came at a pivotal moment in its development, and I believe it truly helped to solidify the value of a Global Health Major at DePauw.  I find it uplifting to think about how much the Crandalls appreciated the dedication of faculty at DePauw, and I am so grateful that they chose to support faculty with their gift.  Knowing in a concrete way that what I do matters is inspiring to me."
Crandall Scholars will begin being selected in the fall of 2023. 
Al Crandall spent his childhood and much of his adult life in Greencastle as the son of a renowned DePauw history professor and civil war expert, A.W. Crandall. His mother, Marion Bradford Crandall, worked for the DePauw president's office, the registrar and later as an instructor at the university. Al majored in history at DePauw, noting he had a built-in tutor at home. His studies had been interrupted by his service in the United States Army, where he served in the Korean War in radio maintenance from January 1953 to June 1954.  He received a Korean Service Ribbon, a United Nations Service Medal and a National Defense Service Medal.  Al went on to work for many years in the insurance industry. 
Louise Woods Crandall, a native of Houston, majored in chemistry at DePauw, a pioneering choice at that time. She went on to become one of the first women to work as a scientist for Eli Lilly, where she was instrumental in developing antibiotics in the 1970s. Al met Louise in a book club, learning that she was also a DePauw graduate, and they were married in 1972. The Crandalls lived in Indianapolis but had talked about moving back to Greencastle.  Their failing health prevented that move. Louise Crandall passed away in 2018, and Al Crandall died on January 30, 2021. They are buried in Greencastle Cemetery in a marker opposite A.W. and Marion Bradford Crandall.
Whether we are writing about the intellectual challenge of our classrooms, a campus life that builds leadership, incredible faculty achievements or the seemingly endless stories of alumni success, we think DePauw has some fun stories to tell.

News media: For help with a story, contact:

Bob Weaver, Senior Director of Communications.
bobweaver@depauw.edu.