DePauw creates "From Our Classrooms to Yours," as profs guest teach high school students
High school teachers in Indiana – and even far beyond – can get spelled for a class session this spring from DePauw University professors who will teach a virtual class in history, science, ethics and more.
DePauw has created "From Our Classrooms to Yours," a faculty speakers' bureau through which university professors have volunteered to teach classes on topics such as climate change; Bruce Springsteen's engagement with American history; the eruption of a New Zealand volcano; and Parrondo's paradox.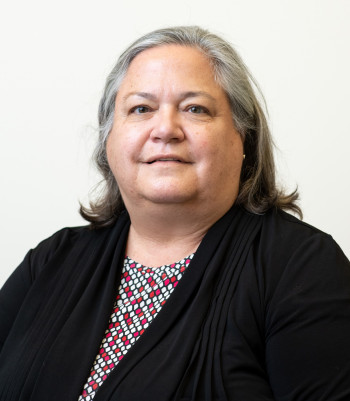 The classes will be offered free from March 1 through May 31, and then again in the fall, to any high school teacher who wants to bring the content to his or her classroom. Terry Cowdrey, DePauw's interim vice president for admission (left), said the speakers' bureau is being promoted to 3,300 high school counselors in the university's database, who are asked to spread the word among their faculty members, and in various other ways, including on social media.
High school teachers anywhere – even in other countries – are welcome to request a session, during which a DePauw professor will present a live lecture over Zoom and engage with students.
Cowdrey said she is unaware of any other institution of higher education undertaking such a program.
"This is really about providing a service, using our expertise at DePauw to provide a service to support high school teachers and, by association, high school students during this challenging time," she said. "It came to fruition because we have all gotten used to the notion of remote teaching and remote presentation.
"Without having the pandemic, without having moved to remote teaching, it maybe wouldn't have occurred to us. … One of the bonuses that will last for us post-pandemic is that we now know that we can bring these guest speakers in virtually to classrooms, whether the kids are actually all together in a classroom with their teacher or the students are also learning remotely. We can connect people in a way that just hadn't occurred to us before."
David Gellman, the A.W. Crandall professor of history and chair of the History Department, will teach the Springsteen course and another course on the movement, long before the Civil War, to abolish slavery.
Geosciences professor Scott Wilkerson, chair of the Geosciences Department, is teaching the course on climate change, in which he will use Google Earth imagery to demonstrate changes to the planet. His colleague Tim Cope, the Ernest R. Smith professor of geosciences, will tell students what it's like to venture into the crater of an active volcano while teaching them how movement of Earth's tectonic plates govern its activity.
Bert Barreto, professor of economics and management, will use Microsoft Excel to run simulations that demonstrate Parrondo's paradox, which holds that a losing game combined with another losing game produces a winning game.
Psychology professor Rob West, the Elizabeth P. Allen distinguished university professor and chair of the Psychology and Neuroscience Department, will describe research in his laboratory that explores the relationship between technology use and brain activity related to cognition and emotion.
Andrew Cullison, director of the Janet Prindle Institute for Ethics and associate professor of philosophy, is teaching courses on ethical issues that arose during the pandemic; the secret of effective leadership; the ethics of comedy; and classic arguments in favor of democracy. A team of Prindle interns will provide a workshop on moral reasoning.
Whether we are writing about the intellectual challenge of our classrooms, a campus life that builds leadership, incredible faculty achievements or the seemingly endless stories of alumni success, we think DePauw has some fun stories to tell.

101 E. Seminary St.
Greencastle, IN, 46135-0037
(765) 658-4416

News and Media