DePauw mourns Peter Ruppert '86, advocate and mentor who gave back to his alma mater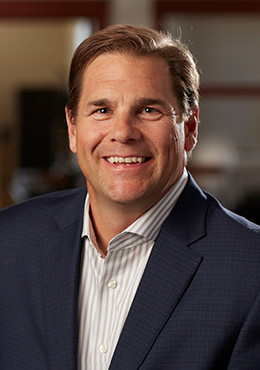 DePauw lost an inspirational advocate and mentor when Peter Ruppert '86 passed away unexpectedly Aug. 1. He was 59.
Born in Oakland, California, Pete was one of six children. He came to DePauw in 1982, where he met his partner of 30-plus years, Jessica Lumsden. After starting his career with Procter & Gamble as well as working as a consultant, Pete turned his attention to education. In 2007, he founded Fusion Education Group, headquartered in Grand Rapids, Michigan. The company operates more than 80 Fusion Academies across 18 states and the District of Columbia. His experience in education includes the roles of president and CEO of organizations in the private school, charter school and early education industries.
As a student at DePauw, Pete was a Management Fellow and a member of Phi Kappa Psi. Throughout his life, he was an active, engaged participant in anything he took on. In addition to his work, he authored the book "Limitless: Nine Steps to Launch Your One Extraordinary Life." It became the basis of one of his popular McDermond Series lectures at DePauw. He also co-founded an event, "Armed Forces Thanksgiving," an annual celebration that raises money for military veterans throughout Western Michigan.
A dedicated alumnus, Pete returned to campus often for the McDermond Center Speaker Series lectures or panel discussions. Pete hosted more than 70 Management Fellow interns and was one of the longest-running intern hosts for the Management Fellows program. Through the years, Pete was involved in the Alumni Board, 1993-1999; Board of Visitors, 2006-2008; Robert C. McDermond Management Center Board of Advisors, 2014-2017; McDermond Center Lecture Series on Management and Entrepreneurship, 2016. In 2021, Pete was appointed as a member of the DePauw Board of Trustees. In 2023, Pete won the Robert C. McDermond Medal for Excellence in Entrepreneurship, an award given to a leader who prioritizes mentorship, entrepreneurship and innovation.
DePauw President Lori S. White remembers Pete's compassion fondly, "I had the honor of attending the ceremony to celebrate Pete receiving the McDemond Medal this past spring," she said. "Pete delivered a compassionate and very personal lecture about his leadership successes and failures and the fundamental importance of dedication and mentorship to a packed audience of students, faculty and staff. His eldest son Jack surprised him by traveling to Greencastle to attend the lecture and beamed with pride as we celebrated his dad. Afterward, I enjoyed a wonderful lunch with Pete and his close-knit family – a memory I will cherish."
Pete is survived by his wife, Jessica (Lumsden) '86, their four children, Jack (27), Grace (24), Pierce (24), and Ben (17), and his siblings Leslie (Ruppert) Krehnbrink, Tim Ruppert, John Ruppert, Matt Ruppert, and Sarah (Ruppert) Gigliello. He is also survived by his mother-in-law, Penny Lumsden, and Jess's siblings, Stew '91 and Rick Lumsden. Lastly, he is survived by all his wonderful nieces and nephews.
A visitation will be held Friday, Aug. 4 from 3-6 p.m. at Metcalf & Jonkhoff Funeral Home. A funeral service will be held Saturday, Aug. 5 at 11 a.m. at Mayflower Congregational Church, 2345 Robinson Road SE, Grand Rapids, MI 49506.
A full obituary can be found here.
Whether we are writing about the intellectual challenge of our classrooms, a campus life that builds leadership, incredible faculty achievements or the seemingly endless stories of alumni success, we think DePauw has some fun stories to tell.

News media: For help with a story, contact:

Bob Weaver, Senior Director of Communications.
bobweaver@depauw.edu.