DePauw names its first vice president for institutional equity
Dionne Jackson, who has spent her career focused on supporting and ensuring equity in education and the community, has been named DePauw University's first vice president for institutional equity.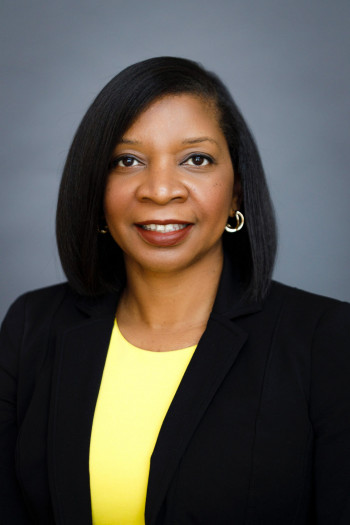 Jackson, who starts at DePauw June 15, will have faculty status with the rank of part-time associate professor of education studies.
She comes from the mayor's office in Little Rock, Arkansas, where she has spent the past year as the city's inaugural chief equity officer. She previously was vice president for diversity and inclusion, chief diversity officer and a tenured associate professor of education at her undergraduate alma mater, Hendrix College, a liberal arts institution in Conway, Arkansas.
She holds a master's degree in education, with an emphasis on secondary leadership, from the University of Central Arkansas and a doctorate of education, with an emphasis on curriculum and instruction, from Baylor University.
"Dr. Jackson's appointment is an important step toward attaining institutional equity at DePauw, one of the principal goals of our new strategic plan," President Lori S. White said. "Having had experience in a similar position at a liberal arts institution, Dr. Jackson is an ideal person to help lead our efforts toward ensuring that students and faculty and staff members from all backgrounds have full access to the DePauw experience."
Jackson said that, in her new job, "I will collaborate with DePauw leadership to identify ways we can improve systems and policies to bridge access and opportunity, equipping every division and department on campus to operate through an equity lens." 
Attaining institutional equity, she said, "is a journey. I tell people that, oftentimes, when we talk about doing equity work, you don't see the fruits of that labor in six months or one year. You have to roadmap your journey and celebrate the milestones along the way."
She said she was gratified by her work in Little Rock but came to realize that "I miss higher education. I really miss being around students. I am excited that as I re-enter higher education, I can do so at a liberal arts institution with a newly launched strategic plan that includes institutional equity as a focus. I am honored to join the DePauw community."
Jackson started her career as a gifted and talented and general science teacher. She taught at Baylor while studying for her doctorate, a period bookended by teaching and the equity jobs at Hendrix. She also worked as executive director of AR Kids Read, a literacy-focused nonprofit organization.
Whether we are writing about the intellectual challenge of our classrooms, a campus life that builds leadership, incredible faculty achievements or the seemingly endless stories of alumni success, we think DePauw has some fun stories to tell.

News media: For help with a story, contact:

Bob Weaver, Senior Director of Communications.
bobweaver@depauw.edu.