DePauw recognized as 20-year top producer of Gilman scholars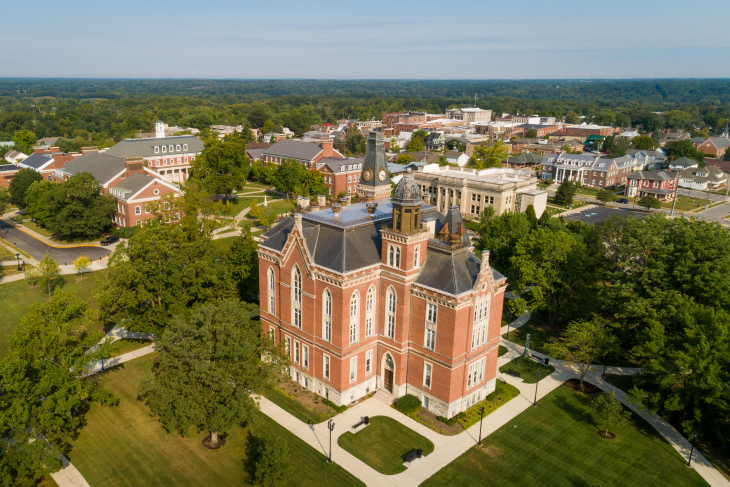 DePauw University has produced 53 Gilman award recipients over the past 20 years, more than most other small institutions in America.
The U.S. State Department's Bureau of Educational and Cultural Affairs today recognized DePauw for the university's performance over the 20-year history of the Benjamin A. Gilman International Scholarship Program, which provides funds for Pell Grant recipients to enable them to study abroad.
The program has made study abroad more accessible and inclusive for more than 34,000 American students from all U.S. states, Puerto Rico and other U.S. territories who have studied or interned in more than 155 countries around the world. 
At the Diversity Abroad conference today, Ethan Rosenzweig, deputy assistant secretary of state, announced the U.S. colleges and universities that have sent the most Gilman scholars abroad over the past two decades. Based on 20 years of data, the top 20 institutions in four categories were honored: small, medium and large institutions and associate-awarding institutions. Colleges and universities in 27 states, plus the District of Columbia and Puerto Rico, are represented, as well as 33 minority-serving institutions. 
"DePauw has been a leader in global education for more than 60 years," said Mandy Brookins, associate dean of experiential learning and director of off-campus programs. "We are proud to partner with the Gilman award for study abroad to ensure barriers are removed to these critical experiences, which bring the liberal arts to life for every student, regardless of their background.
"Programs such as the Gilman Award open doors for students of diverse perspectives and backgrounds to gain critical cross-cultural knowledge and skills needed to solve some of the world's most complex problems."
Savon Jackson '15, now program manager for the Charles B. Rangel International Affairs Program at Howard University, said that "being awarded the Gilman scholarship to study abroad in New Delhi, India, gave me the confidence to apply and earn a Fulbright grant to return to India after graduating from DePauw. My Gilman experience also laid the foundation for me to enter the field of international education.
"The importance of opportunities like the Gilman has inspired my work to make study abroad a more inclusive and financially feasible experience for underrepresented students," said Jackson, a first-generation college student. Without the Gilman scholarship, "my understanding of the wider world outside of the U.S. would be limited."
A Gilman scholarship enabled Maya Cotton '18, now a graduate research assistant at the Robert and Renée Belfer Center for Science and International Affairs at Harvard University, to study in Thailand. That experience, she said, "cemented my desire to pursue a career in diplomacy and provided me the opportunity to take courses in international relations and study under a former ambassador."
It also "helped to facilitate future opportunities within the State Department," including winning a Fulbright scholarship through which she taught university-level business English in Morocco and a highly competitive Pickering fellowship that covers expenses for her Harvard studies. And, she said, the Gilman "increased my ability to adapt to new cultural environments, navigate difference and remain composed in challenging situations."
Peter Gorman '18 said the Gilman gave him "the once-in-a-lifetime opportunity to study abroad in Switzerland" in the School for International Training's Global Health and Development Policy program.  While there, he had a short-term internship with the World Health Organization and the United Nations Library of Science and conducted independent research that later was published.
"My experiences abroad, paired with a DePauw liberal arts education, allowed me to explore real-life experiences outside the classroom, helping solidify my passions of being in the health care industry," said Gorman, who is a regional clinic operations manager for a health care management company, overseeing 11 medical practices in Chicagoland.
In July, the State Department announced that all eight of DePauw's applicants had won scholarships, a 100% showing for DePauw for the first time ever. The Gilman competition is administered at DePauw through the Hubbard Center for Student Engagement.
Whether we are writing about the intellectual challenge of our classrooms, a campus life that builds leadership, incredible faculty achievements or the seemingly endless stories of alumni success, we think DePauw has some fun stories to tell.

News media: For help with a story, contact:

Sarah Steinkamp, Vice President for Communications and Marketing and Chief of Staff.
sarahsteinkamp@depauw.edu.