Nuna Bamatraf '22 is heading to Tokyo this month to represent Yemen and compete in her second Summer Olympic Games. She'll become DePauw's first two-time Olympian.

Her event, the 100-meter breaststroke, is scheduled for July 25. 
The experience will be different from Rio 2016 due to restrictions related to COVID-19. The biggest difference is that no spectators are allowed. "I think that will change the atmosphere a lot," Bamatraf said. "But it'll still be fun and exciting. It's an incredible opportunity."
She relates her event to a regular swim meet until she thinks about who else is there. "It's mind boggling to be in the same place as all the world's best athletes," she said.
"But atmosphere-wise, it feels like a conference meet. It's a high-energy, high-stakes and high-performance meet."
Bamatraf isn't going for gold, silver or bronze, but for the experience itself. 
"I see the Olympics as bringing people together," she said. "Even the Olympic rings are meant to signify the unity of all these nations coming together to participate in one common thing such as sports.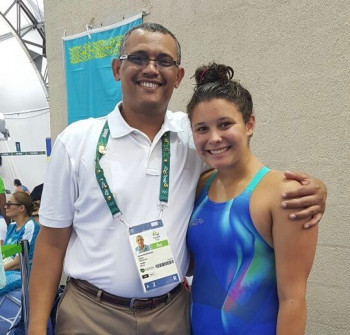 "I get to be surrounded by all these incredible athletes from all over the world who bring so many different cultures together that I get to experience and learn from."
Bamatraf feels very lucky to be representing Yemen. She is a dual-citizen. Her father is from Yemen. "Swimming for Yemen makes me feel more connected to my heritage and to my family," she said.
Tracy Menzel, DePauw women's swimming and diving head coach, will be cheering for Bamatraf from afar. "I hope Nuna will fully immerse herself in the moment and enjoy the process of preparation and competition," she said.
Stevie Baker-Watson concurs. "We're extremely proud of Nuna and support her in her quest to compete a second time at the Olympic level. 
"While there is so much history, along with pomp and circumstance, connected to the Olympic Games, we know this opportunity will also expose Nuna to other coaches and training techniques. We're excited for her to learn new things and bring them back to DePauw," said Baker-Watson, associate vice president for campus wellness and the Theodore Katula director of athletics and recreational sports.
Bamatraf is a kinesiology major and psychology minor. She chose to attend DePauw because of its swimming atmosphere and kinesiology major. After a gap year, she plans to attend graduate school to pursue a doctorate of physical therapy.
As Bamatraf looks to her final swim season at DePauw, she hopes to take some of the competitive elements she'll gain from her experiences at the Olympics. 
"I think taking on the pressure that's there and using it to propel yourself and your races is valuable," she said. "I think we get a similar atmosphere at our conference meets on a completely different scale, obviously. But at the end of the day, I think that most meets give you the same elements of atmosphere and competitiveness."
(Top photo by Linda Striggo. Second photo submitted by Bamatraf, who is shown with her father at the Rio Olympics in 2016.)
Whether we are writing about the intellectual challenge of our classrooms, a campus life that builds leadership, incredible faculty achievements or the seemingly endless stories of alumni success, we think DePauw has some fun stories to tell.

News media: For help with a story, contact:

Sarah Steinkamp, Vice President for Communications and Strategy and Chief of Staff.
sarahsteinkamp@depauw.edu.