Faculty and staff news roundup - Jan. 26, 2021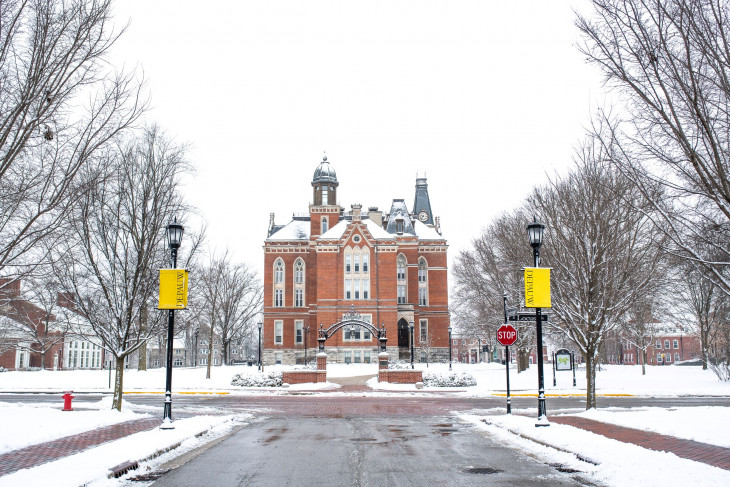 Paul Johnson, associate professor and director of Hispanic studies and coordinator of world literature studies, and Angela Flury, professor emerita of English and world literature, were awarded a grant from the Great Lakes Colleges Association to host a virtual workshop in April on "Translating (and) World Literature Across the University."
Deborah Douglas, Eugene S. Pulliam distinguished visiting professor of journalism, was among 90 writers who contributed an essay to "Four Hundred Souls/A Community History of African America 1619-2019." Each writer focused on a different period in the 400-year journey of African Americans; Douglas wrote about Hurricane Katrina, which occurred in 2005. The book, which was edited by Ibram X. Kendi, author of "How to Be an Antiracist," and Keisha N. Blain, author of "Set the World on Fire," is due out Feb. 2. Douglas also participated in a Jan. 21 GCTN America podcast about President Biden's inauguration.
Bridget Gourley, dean of the faculty and chemistry professor, is working with peers to develop content for Chem4REAL podcasts, a production of the chemistry division of the Council on Undergraduate Research. She is one of the presenters on episode 5, in which she spoke about teaching during the COVID-19 pandemic. For episode 6, which is not yet posted, she interviewed a colleague from Denison University about increasing diversity and inclusion in the STEM fields, and she will interview a colleague from Furman University for a future episode. 
Emmitt Y. Riley, associate professor of African studies, participated Jan. 22 in an episode of the radio program "The Critical Hour" in which he discussed executive orders signed by President Biden on his first day in office.
The English Department has received a $5,000 "INcommon Grant" from Indiana Humanities and the National Endowment for the Humanities to support a symposium called "Cultural Legacies of the Great Migration." The symposium, scheduled for next month, is co-sponsored by the Janet Prindle Institute of Ethics and the Peace and Conflict Studies Johnson and Wright Fund, with endorsements from African Studies, the History Department, the Putnam County Library and the Putnam County Museum.
Whether we are writing about the intellectual challenge of our classrooms, a campus life that builds leadership, incredible faculty achievements or the seemingly endless stories of alumni success, we think DePauw has some fun stories to tell.

101 E. Seminary St.
Greencastle, IN, 46135-0037
(765) 658-4416

News and Media