Samir "Sam" Patel '95 has plunged into the frigid waters off Antarctica, hiked the Inca Trail to Machu Picchu and negotiated the ferocious whitewater rapids of the Zambezi River.
He backpacked across Europe for a DePauw winter-term experience, dove into shark-infested waters off Mexico, went kayaking in search of bears in Vancouver and honeymooned in Australia. In 2020, he and his wife took off on a three-month, 22-state road trip while much of the country was shut down because of COVID-19. They visited both sets of parents, ate at drive-through restaurants and disinfected hotel rooms as they went.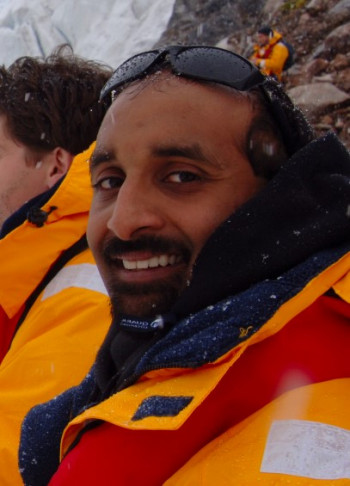 "Ever since I was a young kid, I just had a fascination with exploring the world," said Patel, an angel and real estate investor in San Diego.
That fascination has taken him to all seven continents despite the gradual deterioration of his eyesight. Six years ago, he was diagnosed with retinitis pigmentosa, a rare disease that affects the retina, and he is at risk of going blind.
Patel was born in Germany to Indian expatriates who departed their native country as teenagers. After his father became a physician, the family moved to the United States, and "traveling was just a part of life. … My dad always said, you learn more from traveling than you will in a book, which I think is true."
Patel said travel enables him to learn, satisfy his curiosity, explore and witness the beauty of the world. It also has taught him that "everyone's the same."
He did not intentionally set out to visit all seven continents; "it just happened … as the opportunities would come up." The opportunity to visit his third continent – after his birthplace of Europe and his adopted home of North America – came when he was 11, when he and his family visited India. He has not been back, having had a planned trip thwarted by COVID.
In the meantime, he has visited numerous countries across the globe. On one of several trips to South America, he and a friend traveled to Ushuaia in Argentina's southern tip, from where they embarked on a trip to Antarctica aboard the Professor Malchanov, a Russian research-turned-tourist boat that was strengthened to navigate sea ice.
It was February 2007 – summer in the southern hemisphere – and those in the know told him the seas were relatively mild. Relatively. Everyone strapped themselves into their bunks at night and sometimes the ship listed at a 45-degree angle. They crossed the Antarctic Circle, going farther south than any other commercial boat had done at that time. They traveled from the boat to the mainland by Zodiac, a rigid inflatable craft, where they saw penguins and sea lions and explored abandoned whaling and research stations as well as an active station where Poles who were studying the ozone layer treated the visitors to homemade hooch. He and six other stouthearted travelers were initiated into the Antarctica Ice Tub Club after they stepped off the Professor's gang plank into iceberg-cooled waters, Patel wearing only board shorts and sneakers.
He has gone on wildlife safaris in Kenya, Tanzania, Zimbabwe and Zambia, where he went whitewater rafting, for the first time ever, on the Zambezi River below Victoria Falls. He was told the rapids were Class V, and thought that, on a scale of one to 10, five didn't seem too bad. But he soon learned that the scale is one to five, and Class V, the most intense, is generally recommended only for expert rafters. What's more, crocodiles frequent the river.
"Sometimes not knowing is better," Patel said. "And anyways, we did it. It was super fun."
He also has gone "shark diving" – that is, he entered a cage that was submerged in the waters off Guadalupe Island in Mexico, a premiere spot to see great whites. Most of the sharks that circled the cage – hundreds of them – were interested only in gulping the chum the expedition organizers used to attract them, but he has footage of an especially large female called Lucy crashing into the cage.
Patel said he will continue traveling, though he has no specific plans at the moment. He acknowledged that his diagnosis has dampened some of his enthusiasm, since much of the joy of traveling is experienced by sight.
Doctors cannot say if his eyesight will freeze at some point or if the disease will progress until he cannot see at all. For now, he has lost his peripheral vision; he also experiences cloudy flashes and cannot see in the dark. "Some days you could have clearer vision," he said. "Some days you wake up and you're like, ah, my eyes aren't going to work today."
People often point to his many adventures and tell him "at least you got to do that." But that rings hollow, he said, and he has abandoned the wanderlust refrain that guided his life for so long: "What's the next one?" That question, he said, "is kind of gone." 
DePauw Magazine
Summer 2022
A GATHERING PLACE FOR STORYTELLING ABOUT DEPAUW UNIVERSITY
Whether we are writing about the intellectual challenge of our classrooms, a campus life that builds leadership, incredible faculty achievements or the seemingly endless stories of alumni success, we think DePauw has some fun stories to tell.

101 E. Seminary St.
Greencastle, IN, 46135-0037
(765) 658-4416

News and Media