Honor Scholar Program honors Oklahoma City history teacher as Battey Educator of the Year
DePauw's Honor Scholar Program is recognizing a self-styled "teaching historian" from Oklahoma City as the Battey National Educator of the Year, an honor awarded annually to a secondary school teacher who inspired a DePauw honor scholar graduating senior.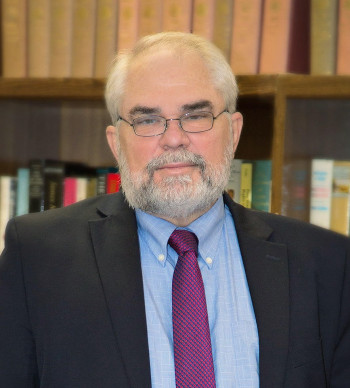 Chris Hamel, who has taught at the upper school at independent Heritage Hall since 2009, is being honored for the 2020-21 academic year. He was nominated by Maggie Ephraim '21, an honor scholar who majored in English writing and minored in Ancient Greek at DePauw. In her nominating letter, Ephraim said that Hamel, who taught her junior-year honors U.S. history class, helped her become a more confident writer. Hamel "works tirelessly to maintain his reputation as a tough but fair teacher," she wrote, "and every student at Heritage Hall knows that he is passionate not only about the history that he teaches but also about the success of his student – in his classroom and beyond."
Hamel holds a Ph.D. in history from Michigan State University and completed his dissertation at Cambridge University. He was assistant dean of students at the Oklahoma School of Science and Mathematics before joining Heritage Hall, where he founded its independent study program and leads its Model United Nations program.
Hamel calls himself a teaching historian because "I remain active in 'doing' history,' which allows me to be relevant and fresh when teaching students how to do history. … The focus of my classes has been to assist students learn how to engage primary sources and historiographical interpretations to discern what it is they believe about some historical problem and why they believe it."
Hamel is an early riser who begins his day translating about 40 Latin lines of Livy or Horace. "Over the years," he wrote in his biography, "I have gleaned one truth from this daily ritual – days that begin with Latin are always better than days that do not."
The Battey award was created in 2008 by Joan Westman Battey '54 and her husband Charles to thank pre-college educators who have made an enduring difference in the lives of DePauw students. Senior honor scholars are invited each fall to nominate a teacher who inspired them and continues to affect their intellectual curiosity. Nominated teachers are asked to submit a 500-word essay about their teaching philosophy, which is used – along with the nomination letter and a recommendation letter from the teacher's principal – by the Honor Scholar Program to choose the Battey winner.
The award provides a prize of $8,400 for the recipient and $3,600 for his school, which is to be spent according to the winner's recommendations.
Whether we are writing about the intellectual challenge of our classrooms, a campus life that builds leadership, incredible faculty achievements or the seemingly endless stories of alumni success, we think DePauw has some fun stories to tell.

101 E. Seminary St.
Greencastle, IN, 46135-0037
(765) 658-4416

News and Media