This is the story of how Tip Moody gave away his life.
It's the story of how his promising career in power politics was halted – relinquished, really – because the 1982 graduate made a choice. And it's the story of how he is reckoning with the mistake that held him in thrall for nearly half of his 60 years.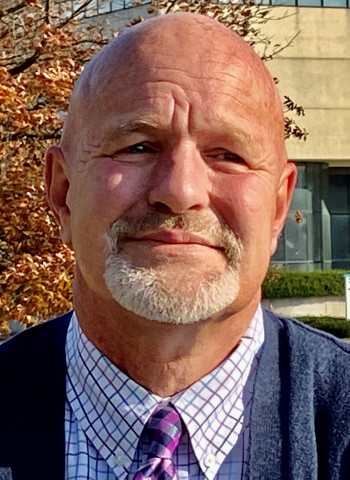 Moody was a bored junior executive at an Indiana department store when a friend beckoned: Join her at the National Republican Senatorial Committee. Moody, who majored in political science, heeded her invitation and in the mid-1980s headed to Washington D.C., where he got a job writing fundraising letters for the committee.
About 18 months in, he was recruited to raise money for Bob Dole's ill-fated campaign for president. The candidate quit in early 1988, leaving Moody "in a period of flux" until another friend invited him to help clean out the U.S. Senate office of Dan Quayle '69, the 1988 vice presidential nominee, and, after Quayle's election, to work on the inaugural committee. Then Moody worked a year for the Republican National Committee.
Along the way, he tried methamphetamines. "It was in a sexual situation … For the gay population in big cities on the East Coast, it was starting to become a part of their social life and, of course, sex was a part of social life," he said. He recalled thinking, "'I like this; I need this more often.' So I'm going to say the addiction began with the first-time use."
For a while, his drug use didn't affect his work, he said. But as he worked a series of private-sector jobs, it took its toll. An employer tried her version of therapy, refusing to pay him so he couldn't afford to buy drugs. His family staged an intervention and forced him to enter a locked-down rehabilitation program. A friend offered him a place to stay until Moody's behavior became intolerable. Meanwhile, his habit was costing $1,000 a month.
"I was good at my job and I gave it away," he said. "… I actually gave my life away."
In 2000, when his father had a stroke, Moody moved to Kentucky to help out. He stopped using meth – "when you have no contacts and no cash, you should be living drug-free" – and switched to alcohol. He found work, and the drinking continued. Then he went to graduate school, and the drinking continued. "Then my drug use started again," he said. "And when that started again, that's when everything swirled out of control. It had spiraled out of control previously, but there was always some place to land, only this time it was really descent into maelstrom."
He was arrested for possession in April 2017 and again in July; in May 2018 he pleaded guilty to one felony and made an Alford plea, a guilty plea but a claim of innocence, on the second. He was sentenced to two years' probation.
"Part of that humility is understanding what it is that you've done wrong, how you've affected people directly."
"Daily life didn't change, and that was a real mistake on my part," he said. Three months later, "I didn't use my turn signal and I was pulled over and again I had something in my pocket," he said. Moody pleaded guilty to the misdemeanor charge, and the judge sentenced him to 120 days in jail. 
"That was my 'qualifying event' that made me step back and say, you know what? You really have reached rock bottom," Moody said. "… I had to run into a brick wall full stop before I would ever think about the harm and the sorrow and the pain that I had put around me, primarily on my mother."
He spent hours thinking and more hours putting his thoughts into letters he sent to his mother, who had lived alone since his father died. After 90 days, Moody was released early for good behavior and, on a cold November 2018 Saturday that he said was simultaneously heartbreaking and joyful, his 87-year-old mother came to fetch him. He promptly deleted 200 contacts from his phone, and has not used drugs or alcohol since.
Moody, whose father was a United Methodist minister, said "the good Lord gives me that strength every day. … Having grown up the progeny of clergy, I always knew the precepts that were necessary for a healthy life but, in the mind of an addict, you're always greater than your addiction. I finally had to learn the true meaning of surrender. … I'm not as smart, I'm not as good, I'm not as great, I'm not as powerful as I always thought I am."
He's not one for programs such as Alcoholics Anonymous, he said, but therapy has helped him figure out what drove him to use meth and alcohol. He has apologized to many of the people he harmed; some have rebuffed him but many have supported his journey. He is "doing my best to forgive myself" and learning to be humble.
"You get used to – at least I did – being wanted and being recognized and being appreciated and that becomes a part of your life and it sometimes becomes difficult to remain humble about it," Moody said. "It just becomes a given; you expect it. Part of that humility is understanding what it is that you've done wrong, how you've affected people directly."
He still smokes a pack of cigarettes and drinks two liters of Mountain Dew every day, addictions that "I fully realize are harmful. But they don't destroy the ones around me. So I have become stronger."
He volunteered at a recovery center until the pandemic hit and hopes to find a job when it is over, though that "is a Sisyphean task for any convicted felon – especially one with a professional career," he said. He recently volunteered for the League of Women Voters, which seeks to change the Kentucky Constitution so a felon's right to vote is automatically restored upon completion of his or her sentence. Moody's voting rights, and those of 140,000 other Kentuckians convicted of nonviolent offenses, were restored by Gov. Andy Beshear's December 2019 executive order.
Moody said he mourns the life he lost, but does not regret what happened. "If you live with any regret, it means you didn't learn the lessons of the experience," he said. "So I can be sad about it. But I certainly can't regret it."
DePauw Magazine
Spring 2021
A GATHERING PLACE FOR STORYTELLING ABOUT DEPAUW UNIVERSITY
Whether we are writing about the intellectual challenge of our classrooms, a campus life that builds leadership, incredible faculty achievements or the seemingly endless stories of alumni success, we think DePauw has some fun stories to tell.

101 E. Seminary St.
Greencastle, IN, 46135-0037
(765) 658-4416

News and Media