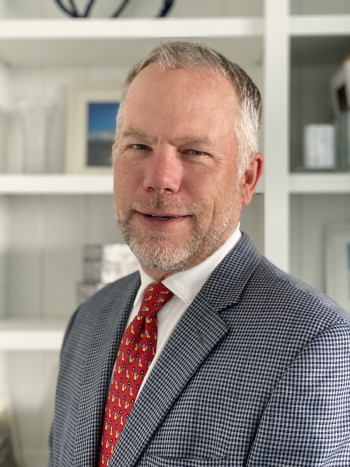 DePauw, says Joseph H. Rohs '84, introduced him to people and experiences that made lifelong impressions on him.
And choosing to study pre-engineering at DePauw "turned out to be one of the best decisions of my young life," he said. "I did not realize at the time the individuals I would meet and live with and the opportunities I would have while at DePauw.
"I hope that I am able to give back to DePauw at least what I received from the university."
He is doing that as the new president of the Alumni Association Board of Directors, a role that he plans to use to spread the word that today's students can get opportunities similar to those he had at DePauw.
The university, like other small private institutions, "has macro headwinds against it, such as the national conversation against liberal arts, the pending drop in college-age individuals and the financial pressures of many of those families," he said. "I hope I can help in changing the conversation and trend on liberal arts, which points out the value of that type of education and the success our graduates have. I want to help DePauw get more than its fair share of eligible students and to get DePauw's message out to its alumni so that they can help supply the time, talent and treasure DePauw needs."
Rohs, a member of Phi Kappa Psi fraternity, played soccer at DePauw for four years, an experience he cherishes. "I received quite a bit out of soccer. There is a value to the student and the university in playing sports and there is no reason DePauw should not have excellent facilities to attract the best student-athletes," he said.
His experience caused him to financially support DePauw athletics programs and facilities, and he was inspired to make his most significant gift to DePauw when the soccer field was named for the man who had coached him for four years, Page Cotton (master's degree 1971).
"Given the chance to honor him and his devotion to DePauw was an excellent way to provide support to DePauw," Rohs said. "I have received more than I have given to DePauw. I am trying to return that gift as well as pass onto others. Education is the backbone to a free and just society. I hope to give what I can at all levels to help all receive the gift of the best education available."
After graduating from DePauw, Rohs attended a business administration graduate program through Wright State and Xavier universities from 1986-1990. He studied to become a certified public accountant at Indiana University and earned certification in 1997.
Rohs retired from TSC Apparel as chief financial officer in 2017. He previously was chief financial officer and director of finance for OKI Bering from 2000 to 2015. From 1993 to 2000, he was vice president of Key Bank's upper middle market lending group.
He has served his community most recently as a board member of Cristo Rey High School and Crayons to Computers. He has served DePauw as vice president of the Alumni Association board and as a volunteer with Admission, the Hubbard Center for Student Engagement and the reunion committee.
Rohs and his wife Barbara, who is the village clerk in Evendale, Ohio, have three daughters.
Whether we are writing about the intellectual challenge of our classrooms, a campus life that builds leadership, incredible faculty achievements or the seemingly endless stories of alumni success, we think DePauw has some fun stories to tell.

101 E. Seminary St.
Greencastle, IN, 46135-0037
(765) 658-4416

News and Media