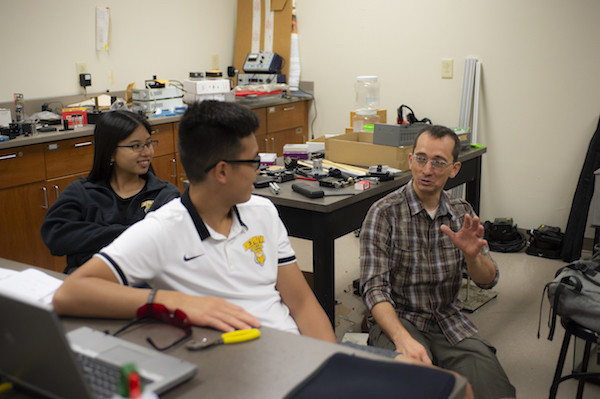 (Above: Professor Jacob Hale collaborating on droplet research with students.)
"Summer research experiences are important to both faculty members' and students' learning and growth," said Bridget Gourley, Percy L. Julian professor of chemistry and biochemistry and dean of the faculty. "Often we gain the deepest understanding about the field of study when the answer is not already known and students work side by side with a faculty member learning to decide what constitutes meaningful data. Additionally, these research experiences give students opportunities that help shape their professional identities."
"This past summer at DePauw projects were wide ranging from the nanoscale to foci as wide as the universe," Gourley said. Two students working with Jacob Hale, associate professor of physics, studied noncoalescence of droplets and ended up engineering a new device for droplets on demand. The behavior of tiny droplets in fluids is important in such things as manufacturing many technological devices to studying the droplets that encapsulate small amounts of viruses. Being able to control droplet size under a range of temperatures and vibration conditions supports science and manufacturing across a wide range of applications. A story about the students and their research is here.
Adam Liebman, assistant professor of anthropology, worked with a student on a project about the global waste brand audit movement, which tracks the companies that produce each piece of litter collected during communal litter cleanup activities, shifting activist focus away from individual behaviors and toward networks of industrial production. This project focused on understanding key puzzles of the movement as it tries to address not only waste and pollution but also climate change and environmental injustice.
Derek Ford, assistant professor of education studies, worked with two students to examine the relationship between pedagogy, power, and post digital technologies and how this relationship reinforces racism and other forms of oppression. The research has been accepted for publication in an edited book, Postdigital Ecopedagogies, which will be published through Springer in 2022.
Sixty-four students and 35 faculty members were supported by gifts for research, including the Kranbuehl, Roberts, Hillger Endowed Fund for Faculty Summer Research. David E. Kranbuehl '65, established this endowment in honor of the Class of 1965's 50th anniversary of graduation from DePauw and additional gifts for the fund were given by Sarah Roberts Houghland '65. Income from the fund supports faculty members pursuing research and creative/scholarly efforts during the summer.
Whether we are writing about the intellectual challenge of our classrooms, a campus life that builds leadership, incredible faculty achievements or the seemingly endless stories of alumni success, we think DePauw has some fun stories to tell.

101 E. Seminary St.
Greencastle, IN, 46135-0037
(765) 658-4416

News and Media