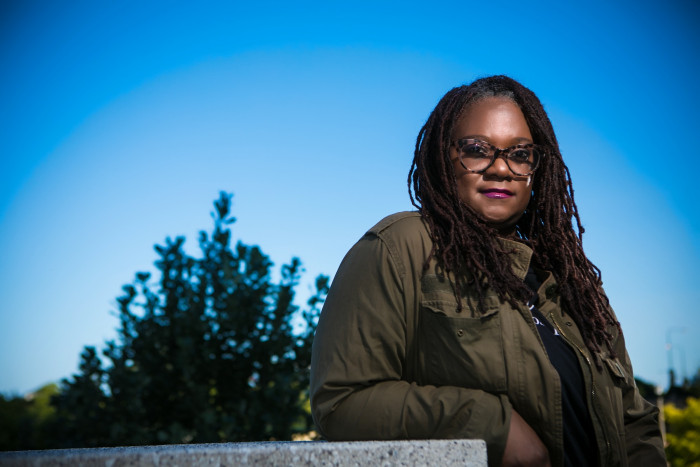 The Eugene S. Pulliam distinguished visiting professorship in journalism is named in memory of the 1935 DePauw graduate and publisher of the Indianapolis Star and Indianapolis News. The fund was established with a gift from Pulliam's wife, Jane, and his three children, Myrta, Russell and Deborah. Income from the fund supports a distinguished journalist who can contribute to the serious consideration of journalism in our society to teach at DePauw for a semester or a year at a time. Award-winning journalist and author Deborah D. Douglas (pictured above) is the current Pulliam professor, and she recently answered some of our questions via email.

Question: How do you find working as a professor vs. working as a journalist?
Douglas: I love academia, working with students to validate their goals while helping them achieve them. I've been working in a hybrid of academia and journalism for more than a decade now, and I feel every minute spent sharing ideas with other professors is like a free education. In addition to my journalistic practice and teaching, I am a senior leader at The OpEd Project. I work with subject-matter experts, largely underrepresented, to hone their ability to write and speak into the public conversation by getting them published and going on radio and TV and doing talks. Fellows come from universities, think tanks and grassroots organizations from all over the world. I'm currently mentoring fellows at my alma mater, Northwestern. But I've done this at Yale, Dartmouth, Columbia and Stanford, among others institutions. I've had the pleasure of doing this work in Kenya and South Africa.
Question: What types of things do you hope to teach or nurture in your DePauw students?
Douglas: Journalism powers everything I do. I have a lifetime interest in holding systems accountable because I believe in this experiment called democracy. I believe I have something to do with making this country true to what it says on paper, to paraphrase Dr. Martin Luther King Jr. I believe in the power of storytelling, especially the kind that uses asset-framing to amplify the highest ideals and lived experiences, rather than deficit-framing, which stereotypes and stigmatizes people. Teaching is a laboratory to test journalistic orthodoxy and share the best of what we have to offer with the next generation.
Question: DePauw doesn't have a journalism major, but students from many different majors might take a journalism class or follow a journalism career path. What types of students are you seeing in your classes and what majors, if any, do you feel are best for those interested in a journalism career?
Douglas: My students are largely communications majors, though I've had students from the sciences and business. Some students are interested in journalism and are already expressing that by engaging with student media. Some students are simply curious, which is great, because that's the beauty of being on a liberal arts campus. Whatever they end up doing in life, they will tell stories. I always tell my students they're leaders by virtue of having what is still a rare chance to go to college. They will go home or to their new communities and become leaders. They will need to tell the story of themselves, their families, their communities and their institutions. Journalism provides an authentic and transparent way of engaging in that storytelling.
Question: How are journalism careers changing?
Douglas: Journalism is changing because it must. Our business model has been blown up by technological disruption and the democratization of communication via social media and open source tools. What the news media will become, I can't wait to see, but I do see promising developments. For three years, I served as founding managing editor of MLK50: Justice Through Journalism, a nonprofit newsroom that centers underserved audiences, and I participated in the Institute for Nonprofit News. Nonprofit newsrooms are cropping up all over the country and are being led by journalism veterans and innovative storytellers who are serious about the seriousness of journalism. Community engagement is a huge part of this shift. This new paradigm requires all kinds of talent, not just the writing kind. I've created courses delving into cross-cultural engagement and solutions journalism, modalities that get me excited about doing this work.
Those interested in learning more about the Pulliam Center for Contemporary Media and supporting students and faculty may contact Steve Trautman, executive director of charitable giving, at steventrautman@depauw.edu or 765-658-4085.
Whether we are writing about the intellectual challenge of our classrooms, a campus life that builds leadership, incredible faculty achievements or the seemingly endless stories of alumni success, we think DePauw has some fun stories to tell.

101 E. Seminary St.
Greencastle, IN, 46135-0037
(765) 658-4416

News and Media