She was audacious and energetic, nervy enough to launch an organic children's clothing line at age 23, despite having zero business experience, and driven enough to do it simultaneously with starting law school.
Then Kyle Smitley '07, inspired by service trips to Haiti in high school and El Salvador and Belize in college, earmarked half her profits for charitable causes, and the world went crazy.
Mom bloggers raved, and celebrity mothers outfitted their children in Barley & Birch attire. Inc. magazine listed her among its 30 "coolest entrepreneurs under 30." Forbes called her a top 10 entrepreneur to watch. Huffington Post named her its "Greatest Person of the Day." She lunched with President Obama and had dinner with Steve Jobs.
It wasn't enough.
"I wanted to feel so enthusiastic to be alive every single morning," she said. "And it wasn't there in the strictly for-profit. … At the time, I was like, it doesn't feel good. I don't feel excited."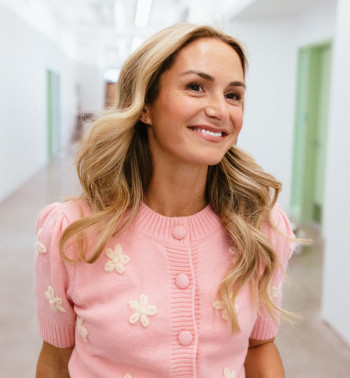 Smitley said that work with a story coach – "almost more of a therapist" – caused her to realize that "my entire life is about the next adventure. … I'm not summiting Everest, right? It means, to me, more like every single day being a very exciting adventure."
She sold the company, mindful that "I had some dues to pay. I wanted to do my part to give back to a world that I felt had given a lot to me." Then living in San Francisco, Smitley determined that she should move to Detroit – just 90 minutes from her hometown of Defiance, Ohio – and volunteer at a public school. Unable to identify one where she might fit in and buoyed by her public persona, she decided she'd open a charter school.
She got a rude awakening. A comeuppance, really. "Over the next three months, I proceeded to get nine rejection letters," Smitley said. "… Give Michigan a little bit of credit because, at the time, I (said) I'll open a school and Michigan was like, 'you're not qualified to teach a bunch of our kids. Good try.'"
She buckled down, researched, talked to people who had started schools, recruited veteran educators, learned "how to play the game a little bit better" and finally secured approval from the state to open nonprofit Detroit Achievement Academy, a K-8 charter school, in 2013. Detroit Prep, which serves K-6 pupils and where the older of Smitley's two daughters attends, followed, opening in a 100-year-old renovated school building where whimsy met historic preservation sufficiently to merit a story in Architectural Digest.
The schools focus on helping students decide "what kind of a person do you want to be? And what kind of person are you? We have habits of character and they drive every single thing we do," she said. Teaching soft skills such as self-awareness, self-reflection, compassion, cooperation and grit "can lead to more productive and successful people."
She handles external matters – budgets, partnerships, fundraising and public relations – and leaves the education to the educators. And she has found contentment.
"A couple of years ago, I would have said I'm really good at starting something but I don't have the tenacity and attention span to really stay in the details and focus," she said. "Now I've been doing the same job for nine years. So maybe I'm better at it. But I think it's because I have a really good team that does a lot of that here. So I'm essentially still in the startup and entrepreneur mode. And I have a lot of people who clean up my mess behind me, who button things up."
Not that contentment equates to slowing down. With time on her hands during the pandemic, when the school buildings were vacated, Smitley – in what she called "a pandemic, nervous-energy project" – designed a cookware line, started a company called Louis (pronounced LOU ee) and has begun to sell the cookware nationwide in popup stores.
"Capitalism is only exciting to me if I can be proving that it can be done in a more unique way," she said. "It takes a deep well of confidence and a sense of adventure."
And earlier this year, she applied to become a volunteer police officer in Detroit.
"I want to see if I'm strong enough," she said. "I want to see what it's like. I want to see what I can do. I want to see if I have any value to add," she said. "I haven't ever really fallen on my face in a big way, and I think that I'm a better person for trying new things and pushing myself."
DePauw Magazine
Summer 2022
A GATHERING PLACE FOR STORYTELLING ABOUT DEPAUW UNIVERSITY
Whether we are writing about the intellectual challenge of our classrooms, a campus life that builds leadership, incredible faculty achievements or the seemingly endless stories of alumni success, we think DePauw has some fun stories to tell.

News media: For help with a story, contact:

Bob Weaver, Senior Director of Communications.
bobweaver@depauw.edu.