It was a nightly ritual – at least as often as his physician's schedule would allow: Alex Porter '03 would read to his two young daughters, give them their baths, maybe perform shadow puppet shows and sing some songs before tucking them in for the night.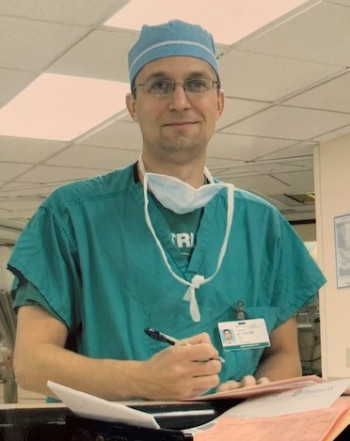 So it "just broke his heart," said his widow, Gwendolyn Porter, when Alex couldn't follow the routine or even see his daughters during months of hospitalization for treatment of B cell acute lymphoblastic leukemia. (Left: anesthesiologist Alex Porter '03.)
"He just kept saying, 'I just want five years because … I just want them to remember me,'" Gwendolyn said. Porter, diagnosed when his daughters were 3 and 5, died 14 months later at age 37.
He was a biology major and chemistry minor at DePauw who graduated from Wright State University's Boonshoft School of Medicine. He practiced anesthesiology at Ohio Health Riverside Methodist Hospital in Columbus, where he met Gwendolyn, an occupational therapist in neonatal intensive care.
While at DePauw, he volunteered on service mission trips to a medical clinic in Juarez, Mexico; while in medical school, he volunteered for Special Olympics and Reach Out. Later, he was a wish-granter for the Make-A-Wish Foundation until he became ill.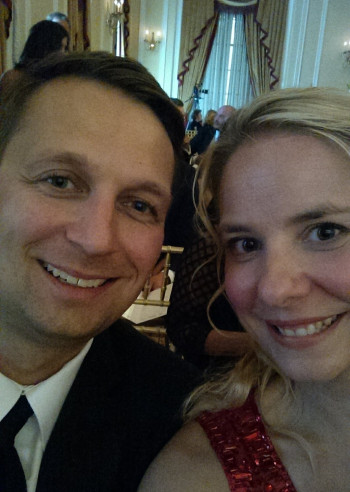 Gwendolyn strove mightily to build memories for their daughters during those awful 14 months, when Alex underwent treatment in four hospitals in three states, including Stanford Health Care in California, where he died in April 2018. (Left: Alex and Gwendolyn Porter a few months before he was diagnosed.)
Among other things, the girls kept in touch with their daddy via Google Duo, a video calling app. Their visits to the hospital were relegated to hallways or elevator lobbies because so many of Alex's fellow patients are immunocompromised. "We had no idea that kids wouldn't really be allowed to visit," she said. "When we did try to visit, the nurses would literally run the girls and me off the floor and tell us we had to leave."
Soon after Alex's death, Gwendolyn was brainstorming ways to keep his memory alive with Nathan Hand '03, "our resident guru in doing good for other people" and Alex's best friend and Delta Upsilon brother.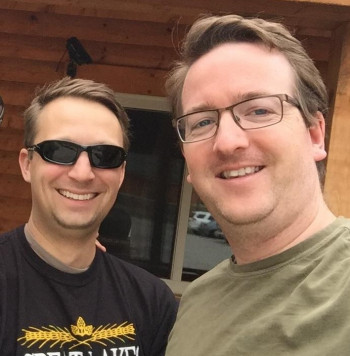 "Alex was a service-minded guy … and I, of course, was aware of the challenges of him seeing the girls during his illness," said Hand, a Bonner Scholar and winner of the Walker Cup at DePauw who now is chief advancement officer at The Oaks Academy, a private school in Indianapolis. "… When you go into an adult cancer hospital, there is no child-friendly place." (Left: Alex Porter and Nathan Hand '03.)
They came up with the idea of creating a dedicated and comfortable space within a hospital for adult patients to spend time with their children and make the kind of memories that Gwendolyn wanted Alex and their daughters to make. They raised some money but knew the bigger hurdle would be to persuade hospital officials to dedicate some precious real estate to the space. They approached the folks at Riverside and – with the support of Alex's former colleagues – won them over.
The result is Alex's Sunnyside Playroom, a 1,600-square-foot space that is big enough to accommodate two families at a time and accessible to patients tethered to IV poles, in wheelchairs or even in hospital beds.
"As our capabilities at Riverside advance, sicker and sicker oncology patients will be in our hospital," Tom Harmon, vice president of medical affairs at Riverside, said in a prepared statement. "This is an opportunity to provide support and respite. It's not just the patient in the hospital bed we're treating, but the entire family." The playroom "is a heartfelt way of remembering a beloved colleague."
Alex, Gwendolyn said, "would be blown away about how many people have rallied and really come to the forefront to advocate for this because they saw what our family went through."
Hand said, "I think he'd be embarrassed by it in a good way. He was a quiet, humble guy. He wouldn't have needed or wanted any of that name recognition."
Both Gwendolyn Porter and Hand hope the idea catches on with other hospitals. Another DU brother videotaped the playroom's opening and will create a pitch that can be made to other hospitals. Those interested in supporting a playroom or making connections with hospitals should visit the website, Hand said.
(Top photo: Ribbon-cutting at Alex's Sunnyside Playroom with Nathan Hand and Alex's family. Photos provided by Gwendolyn Porter.)
Whether we are writing about the intellectual challenge of our classrooms, a campus life that builds leadership, incredible faculty achievements or the seemingly endless stories of alumni success, we think DePauw has some fun stories to tell.

News media: For help with a story, contact:

Bob Weaver, Senior Director of Communications.
bobweaver@depauw.edu.