If one word describes Chris White's journey from writer to published author, it's "perseverance."
"Perseverance," she said, "is all. … So much of it is sticking with it, and believing in it, believing in the project even during those hard times."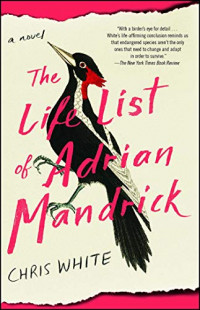 White, a DePauw professor of English, is the author of "The Life List of Adrian Mandrick," a novel that she worked on for 15 years before it was published in 2018.  
This was after her first agent quit the business and her second decided her manuscript wasn't sufficiently commercial. 
"I had just given up on it, honestly," she said. "I was lying in bed one night and I said, 'You know what? I think you may need to accept that this isn't going to happen. How are you going to do that? How are you going to emotionally position yourself to accept that?' And it was probably two days later that my agent said, 'yes, Simon & Schuster wants the book.'"
Or maybe the watchword is "research." Hundreds of hours. "Research was paramount," White said. "... Research isn't just for getting things right. It's also a generative process. You can get actual direction in your plot or reveal things about your character or characters or location that changes plot – things that you never would find otherwise. …
"I found my best research often happens talking to people," who "really want to talk about what they know." Because her protagonist is an avid bird-watcher, she spoke to a dozen top birders, two of them repeatedly. Doctors helped her understand anesthesiology, her main character's occupation. She researched locations, opioid addiction and Army Rangers.  
Or perhaps the right word is "revision." In the book's early iterations, its style was more lyrical and experimental; the prose included journal entries about body parts and marriage.
White's own learning and inclination, as well as suggestions from agents and other readers, led to substantial revisions. Adrian had been the antagonist, switched after novelist Robert Boswell, at DePauw for the Kelly Writers Series, read the manuscript and told White "you just have to admit it; he has taken over the whole book." Boswell also pointed out that "some of the best stuff in your book … has got to go."
Said White: "I sent him a bottle of scotch and then started rewriting again. … It's probably inconceivable for people who maybe haven't gone through that process to imagine how much revision was involved." She estimated she wrote 50 drafts.
"I really love the revision process; I genuinely do," said White, who is working on her second novel. "The painful part for me, really, is writing the initial drafts. Once you have something, it's fun to mess with it and try to get it right."
DePauw Magazine
Spring 2022
A GATHERING PLACE FOR STORYTELLING ABOUT DEPAUW UNIVERSITY
Whether we are writing about the intellectual challenge of our classrooms, a campus life that builds leadership, incredible faculty achievements or the seemingly endless stories of alumni success, we think DePauw has some fun stories to tell.

News media: For help with a story, contact:

Bob Weaver, Senior Director of Communications.
bobweaver@depauw.edu.