As storied as his soccer career is, Brad Hauter '87 has a lot going on outside soccer.
True, he started for four years as DePauw's goalkeeper and twice was named the team's Most Valuable Player. And yes, he played professional soccer for a decade. He has coached at the college and pro levels and, since 2008, has been head coach at his alma mater, where over 12 seasons he has racked up a record of 139 wins, 53 losses and 34 ties. And he is the on-air "color analyst" for broadcasts of Indy Eleven's professional soccer matches.
But Hauter is anything but single-minded. Entrepreneur? Humanitarian? Risk-taker? Nonconformist?
Yes, yes, yes. And yes.
He was coaching at St. Mary's University of Minnesota when a colleague suggested "something that would be perfect for you." MTD Products Inc. was sponsoring a cross-country trip on its Yard-Man lawn mower to raise money for the charity Keep America Beautiful. And it was looking for a driver. At his colleagues' urging, Hauter reluctantly applied and ultimately beat out hundreds of other applicants to get the nod.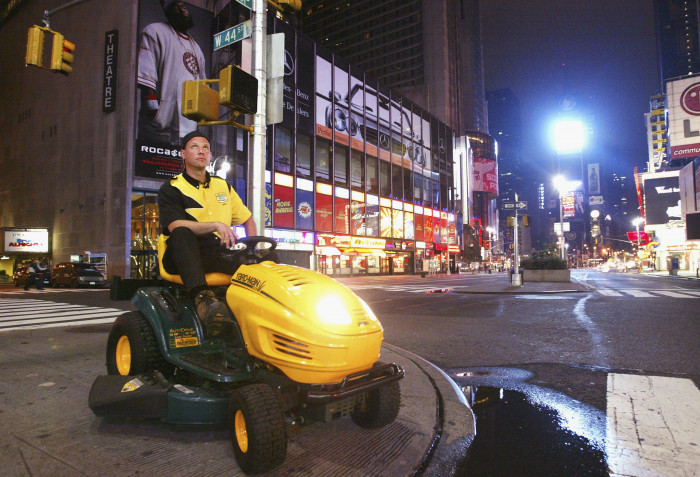 (photo by Getty Images)
He started on the 5,000-mile trip in Atlanta on April 7, 1999 – 30 days after his twins were born (yes, he is still married to their mom, Charlotte, and son Christian is a DePauw junior) – and arrived at Santa Monica Pier in Southern California 67 days later, having drawn the attention of major news outlets as well as Rosie O'Donnell, Jon Stewart and Paul Harvey.
It was, he said, "an absolutely incredible experience, a life-changing journey" during which he developed friendships with his crew, raised money and drew attention to a cause important to him. And had fun. So when MTD decided to reprise the stunt in 2003, Hauter was on board. Literally. This time, he traveled – topping out at 25 mph – from San Francisco to New York City, with an unplanned delay in San Antonio, Texas, when somebody stole the team's semi-tractor trailer and its contents, including the lawn mower.
"I can't sit here now at 55 and say that I'm a conformist when I look at my life's path ... It was random situations that I sometimes lucked into, sometimes just was in the right place at the right time."
If driving nearly 10,000 miles on a lawn mower doesn't qualify Hauter as a nonconformist, consider that he also started "Off the Streets," a Chicago organization that sought out homeless people to act in plays, giving them a boost in confidence and their finances. Reluctant to move his family to New York City, he turned down an overture from "Saturday Night Live" creator Lorne Michaels but liked the idea of doing a television show. So he and two partners started a production company that created 55 episodes of "Junk'd," his own home-makeover television show that lasted eight years; the popular "Coop Dreams," a show about raising chickens, goats and bees; and a bunch of other shows and documentaries.
He wrote a soccer coaching manual called "The Invisible Game" and a self-help book called "Counter Terrorism" about a boy and a squirrel. He holds a patent on Free Kick, a soccer training product available in Walmart and Target stores. And he wants to live off the grid after he retires.
Hauter allowed that he lives an unconventional life. "I can't sit here now at 55 and say that I'm a conformist when I look at my life's path," he said. "It just doesn't fit what I see as the definition of 'conformist.' But I don't think any of it was by design. I think it was random situations that I sometimes lucked into, sometimes just was in the right place at the right time."
(top photo by Richard Gold)
DePauw Magazine
Spring 2020
A GATHERING PLACE FOR STORYTELLING ABOUT DEPAUW UNIVERSITY
Whether we are writing about the intellectual challenge of our classrooms, a campus life that builds leadership, incredible faculty achievements or the seemingly endless stories of alumni success, we think DePauw has some fun stories to tell.

101 E. Seminary St.
Greencastle, IN, 46135-0037
(765) 658-4416

News and Media