Leaders the World Needs
is a regular feature of DePauw Magazine, which is published three times a year.
It's an unlikely story, to be sure.
A DePauw senior from Kokomo, Indiana, who "on a lark" puts a political science major to the test and runs for and wins a seat in the state legislature.
Whose feat becomes the subject of a feature in iconic Life magazine, circulation 13 million or so.
Whose accomplishment is noted by Mademoiselle magazine for its annual Merit Awards, also given that year to famed ballet dancer Margot Fonteyn and Broadway actress Julie Harris. 
Who, midway through DePauw, left school to serve her country in the Women's Army Corps.
And Jane Noble Luljak '49 did it all backwards and in heels. Metaphorically, at least.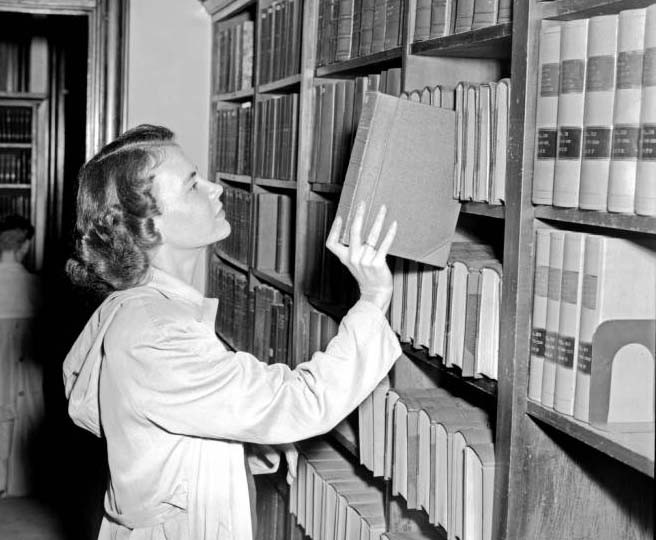 Luljak, who died in 2011 at age 87, told Life that her newspaperman father encouraged her to run for office after she described a "complicated and successful maneuver" she made in DePauw student politics. The maneuver is a mystery, said her only child, David Luljak, who suspects his grandfather encouraged the run because of his own failed electoral attempts.
It also will remain a mystery why Jane Luljak, elected as a Democrat in November 1948, chose to serve just one term in the Indiana House. After the 61-day 1949 session, she returned to Greencastle to complete her degree.  
"My mother wasn't a natural politician in the sense that you think of people just loving to meet people and being outgoing," David said. "She was thoughtful. I think she got at it from that angle and maybe that's why she really didn't pursue it. She wasn't cut out for all of the interpersonal stuff that you have to do."
Her decision also may have been influenced by the times, he said. She was married in August 1949 to Laddie Luljak '50, who had served two years in the Army before using the GI Bill to go to DePauw, where the couple met on a blind date. They were married 57 years; Laddie died in 2006.
After graduation, Laddie, an economics major and president of the student body, went to work as the merchandise manager for the Foley's department store chain, requiring a move to Houston. Besides, Laddie told Life, "it's one thing for a girl to serve a term in the legislature, but another for her to enter politics permanently."
Said David: "That's a little cringeworthy, actually."
So were the terms used in the rampant publicity afforded to Jane Noble Luljak's service. "Coed Dazed But Ready to Serve." "Pretty." "Photogenic. "Petite brunette." "The pride and the sweetheart of the 86th General Assembly." "The House pinup girl." 
The same stories noted, at least, that Noble Luljak was interested in social welfare, education, labor and veterans' issues, and she authored a bill that would prohibit racial discrimination at hotels and restaurants.
She remained interested in politics throughout her life, though she never practiced again. For a time when David was little, she was a member of the League of Women Voters and she loved reading presidential biographies, her son said. She also loved cooking, golf and the Houston Astros.
DePauw Magazine
Fall 2020
A GATHERING PLACE FOR STORYTELLING ABOUT DEPAUW UNIVERSITY
Whether we are writing about the intellectual challenge of our classrooms, a campus life that builds leadership, incredible faculty achievements or the seemingly endless stories of alumni success, we think DePauw has some fun stories to tell.

101 E. Seminary St.
Greencastle, IN, 46135-0037
(765) 658-4416

News and Media