Leaders the World Needs
is a regular feature of DePauw Magazine, which is published three times a year.
What Lucy Ferguson VanMeter '97 wanted most during the 17 years she practiced civil litigation in 50 Kentucky counties was fair treatment.
"All I ever wanted was to be before a judge who had read my pleadings, who was prepared for my hearing and who gave me a fair shake and applied the law," she said. "Of course I wanted to win, but if I had lost and all those things had happened, I was OK with that. I think that's really what lawyers want. They want somebody who's going to apply the law consistently and predictably. Because if your judge doesn't apply the law consistently, there's chaos."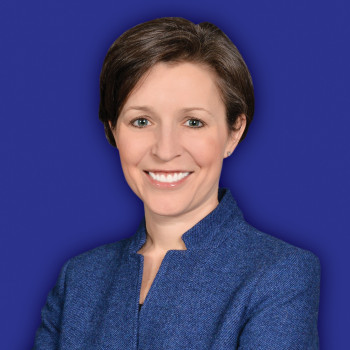 And so, since she was sworn in as a judge in Kentucky's Fayette Circuit Court in December 2018, "that's what I try to do in my cases." She handles criminal and civil cases.
She said she loved the Lexington firm where she was an equity partner and "would have continued to work there until I retired," but she had always wanted to be a judge, and she promptly decided to run after hearing of a sitting judge's plan to retire.
"I thought it would be a fun job, an interesting job, definitely a different perspective from the practice of law," she said. "Different from being an advocate."
Some friends who had made the leap urged her to do the same. Not so much her husband, who happens to be a justice on the Kentucky Supreme Court.
"He would be supportive if I chose to do it, but he wasn't pushing it," she said of Laurance VanMeter. They met when he was running for the high court in 2016, and she accompanied him on campaign swings through the 11-county district from which he was elected.
"It was during that process that I not only got to see what it took to run a campaign but also had to force myself to do the things that you have to do in a campaign – walk into a room where you don't know anybody and try to meet everybody," she said. "And so, having gone through that experience, it gave me the confidence to think that I could do this. I could run a campaign, a successful campaign."
Laurance VanMeter, who had served 13 years on the Kentucky Court of Appeals, was sworn in in January 2017. They were married in August that year, and "we really just had about two months of calm" before the judge retired "and we just cranked up the machine once again."
These days, she said, "it's really great just to be able to do the job."
DePauw Magazine
Fall 2020
A GATHERING PLACE FOR STORYTELLING ABOUT DEPAUW UNIVERSITY
Whether we are writing about the intellectual challenge of our classrooms, a campus life that builds leadership, incredible faculty achievements or the seemingly endless stories of alumni success, we think DePauw has some fun stories to tell.

News media: For help with a story, contact:

Sarah Steinkamp, Vice President for Communications and Marketing and Chief of Staff.
sarahsteinkamp@depauw.edu.