"We're very excited that DePauw has an outstanding track record of first-destination experiences for our graduating seniors," says Dave Berque, associate vice president of Student Academic Life, dean of academic life and executive director of the Hubbard Center. "Some seniors know exactly what they're going to do and have those opportunities secured as early as fall their senior year. For other seniors, the final plans fall into place closer to commencement."
Regardless of the time frame, Berque says, members of DePauw's Class of 2019 are prepared for success in business, graduate school, internships and beyond.
Learn more about these graduates and their pathways to become leaders the world needs.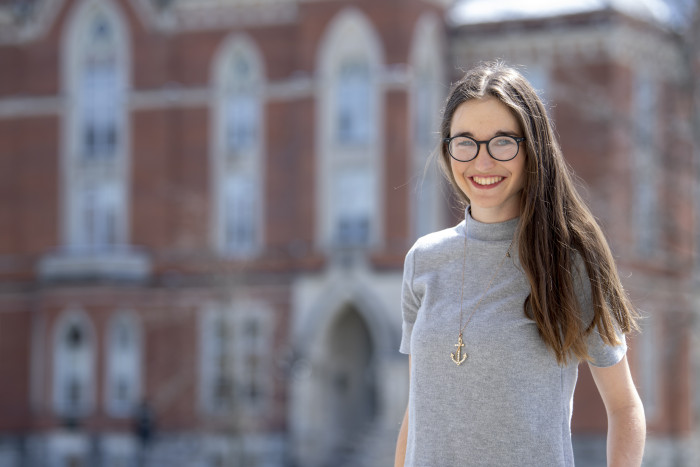 Rachele Miller '19
Major: economics, minor: history
Hometown: Bettendorf, Iowa
Destination: functional consultant in the Salesforce Practice at Appirio
DePauw challenged me both inside and outside of the classroom by constantly asking me thought-provoking questions. I found people who supported me not only during the good times, but also during the hard times. There were many times when DePauw was not easy, and I didn't always believe in myself. But professors and staff members always believed in me. The experiences I had were life-changing and helped me become more self-assured.
At DePauw I participated in women's golf. I was co-president of Women in Economics and Business, a management fellow and a member of Delta Gamma sorority. Additionally, I completed internships at Rally Appraisal, Circle K, CMG Worldwide and Roche Diagnostics.
Appirio is a company that has strong DePauw connections and, without the help of the McDermond Center, I would not have found such a great opportunity. I have worked for a variety of different sizes and kinds of companies during my internships, which I hope will serve me well when working with clients in the consulting industry. DePauw taught me how to give professional presentations and improve my problem-solving skills, two of the most important qualities in a consultant.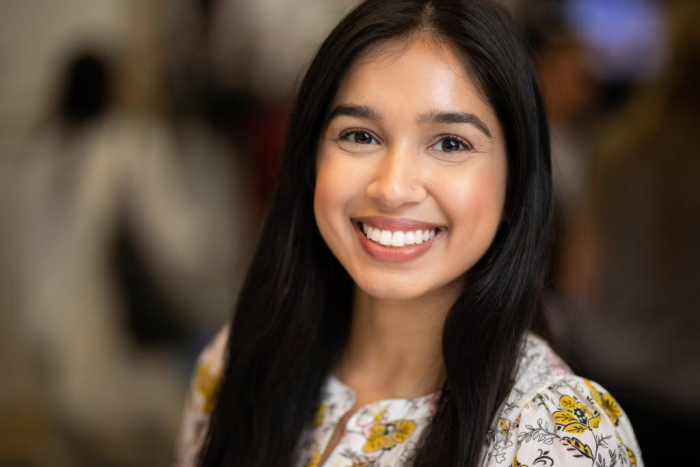 Hanifa Hotelwala '19
Major: computer science
Hometown: Indianapolis, Ind.
Destination: software developer at USAA, San Antonio, Texas
DePauw introduced me to professors who have my best interest in mind at all times, especially in the computer science department. As a first-generation college student, connections are something I didn't have. But I secured this position at the Grace Hopper Conference—the largest women in tech conference in the U.S.—I attended through a scholarship the computer science department found for me.
Interviews were something that I got really nervous about. I did several mock interviews with the Hubbard Center to become confident for my real interviews.
At DePauw I've been a member of the executive board for Women in Computer Science, co-chair of Robotics Club and I am also a part of the Information Technology Associates Program.
Liam Byrnes '19
Major: musical arts; minor: political science
Hometown: Naperville, Ill.
Destination: English teaching assistantship in Thailand, Fulbright U.S. student program
The Fulbright program places an emphasis on both effective teaching and meaningful cultural exchange, both tasks I am excited to fulfill.
Many DePauw faculty and staff contributed to my Fulbright application, something I am extremely grateful for. Hubbard Center staff reviewed my materials while faculty members interviewed me for the role.
My time as a first-year mentor and on the debate team were essential in helping me build leadership and public speaking skills that enabled me to be successful in communicating and teaching in a new environment. Off-campus, my work teaching in prisons was strong experience to help me prepare for teaching classes in Thailand.
It was an honor to be nominated for and win the Walker Cup, an award that has such a long history at DePauw. Though I think quantifying one's contributions to DePauw is an impossible task, it meant a lot to celebrate the ways the other finalists and I have tried to make this institution a better place for all students. I feel very grateful to have been blessed with so many phenomenal peers, staff and faculty who have supported my DePauw journey.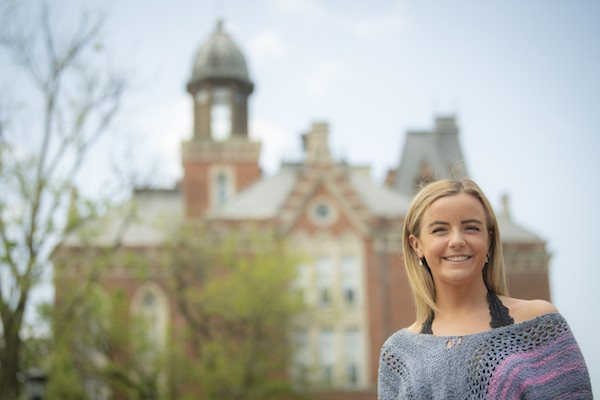 Molly Brennan '19
Major: Spanish
Hometown: Chicago
Destination: Salesforce, Chicago
As a recruiting coordinator, I will support the recruiting team by scheduling interviews with internal and external candidates, arranging travel accommodations and generating offer letters. I'm excited to interact with all levels within the organization in order to execute the recruitment process, as well as support special projects.
After studying abroad in Buenos Aires, Argentina, for a semester, I fell in love with the city and started looking for employment opportunities there. I'm excited to be able to utilize my Spanish with Salesforce and hope to transfer to one of the offices in Spain or Buenos Aires.
Networking and keeping in touch with employers are stressed by DePauw. My interviewer told me that one of the things that got me the job was my persistence in keeping in touch with her and each recruiter I spoke with over the course of four months.
DePauw fostered my passion for international experiences, and I'm excited to be working for a company with an international market where I can use and strengthen my Spanish.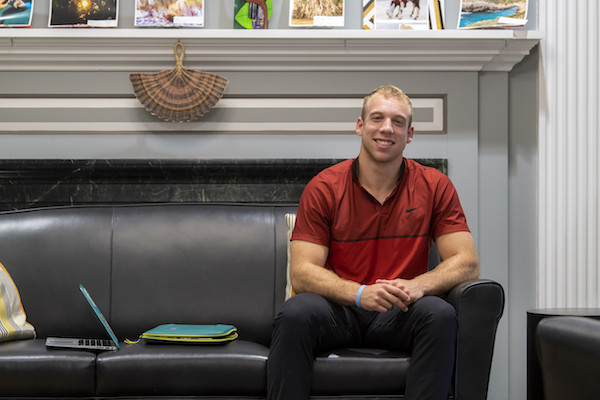 Zachary Williams '19
Major: economics
Hometown: Avon, Ind.
Destination: ADP associate, Roche Diagnostics
DePauw prepared me for this job by giving me opportunities to speak one-on-one with business professionals and executives on a weekly basis, which made me comfortable speaking in a variety of professional situations.
I interned for Roche Diagnostics in finance, for Delta Air Lines in sales/marketing and for JPMorgan Chase supporting adviser-client relationships. I also was a four-year varsity athlete for DePauw football and a team captain.
The combination of these professional experiences in different areas of business and in different industries gave me a vast understanding of a variety of business models. And my time with DePauw football prepared me for experiences in different team environments in these varying professional settings.
DePauw isn't going to force you to take advantage of the opportunities it provides; you have to seek them out and seize them.
More 2019 Destinations
Please submit the Class of 2019 Destinations form if you'd like to be listed.
NAME
DESTINATION
Abigail Martin
Peace Corps
Togo
Alexa Jenkins
Notre Dame
Law School
Alison Grimm
SVM, LP
Fellow
Anna Davlin
Ford Motor Company
Marketing
Anne Grujanac
Peace Corps
Dominican Republic
Annie Nhi Nguyen
Winthrop Capital Management
Portfolio Analyst
Benton Turner
West Monroe Partners
Consultant, Operations Excellence
Bo Shimmin
Fulbright Award
Italy
Bri Douglas
Adirondack River Outfitters
White Water Rafting Guide
Brooke Bandy
Goldman Sachs
Financial Analyst
Cade Jones
Element Three
Orr Fellow
Charles Precht
Tunghai University, Taiwan
Teacher
Charlie Nash
Messina Group
Analytics Associate
Chase Wright
Morris Higham Management
Songwriter
Colleen Morris
BMO
Client Management
Courtney Oliver
IU-McKinney
Law School
David Linton
The University of Tampa
Exercise & Nutrition Science
Dominic Miranda
WTHI-TV Channel 10
Multi Media Journalist
Emily Green
Loyola University
Law School
Emily Troyer
Eli Lilly and Co.
Finance
Erica Rapelje
Eli Lilly and Co.
Marketing Associate
Grant Woods
Columbia University
Musicology, Ph.D.
J Selke
University of California, Riverside
Religious Studies, Ph.D.
Jacob Fritz
KeyBank
Investment Analyst
Kylee Rippy
FOX 59 Indianapolis
Lewis Andrews
Delta
Commercial Strategy Analyst
Marko Mavrovic
Georgetown University
Int. Relations, M.S.
Matthew Labus
Eli Lilly and Co.
Financial Analyst
Meghan Sink
Case Western Reserve
Law School
Mengting Li
Columbia University
Applied Analytics
Merrit Pogue
Tempus
Clinical Data Analyst
Nelson Blake
Fulbright Award
Germany
Noah Long
IU-McKinney
Law School
Peper Langhout
Fulbright Award
India
Philip Bork
Huron Consulting Group
Analytics Analyst
Quincy Ballard
Indiana University
Informatics
Samuel Karcher
Salesforce
Business Development Associate
Sara Schwomeyer
Sincerely Hers
Marketing
Stephanie Ramos
Fulbright Award
Paraguay
Tawfiq Anabtawi
KeyBank
Finance Analyst
Tommy Peterson
C.H. Robinson
Logistics
Will Freeman
LinkedIn
Global Sales Associate
Zachary Johns
Eli Lilly and Co.
Human Resources
Whether we are writing about the intellectual challenge of our classrooms, a campus life that builds leadership, incredible faculty achievements or the seemingly endless stories of alumni success, we think DePauw has some fun stories to tell.

News media: For help with a story, contact:

Sarah Steinkamp, Vice President for Communications and Marketing and Chief of Staff.
sarahsteinkamp@depauw.edu.