DePauw Magazine
Summer 2019
A GATHERING PLACE FOR STORYTELLING ABOUT DEPAUW UNIVERSITY
Old Gold
is a regular feature of DePauw Magazine, which is published three times a year.
My journey to U.S. history began as I was growing up in Japan. As a child, I was inspired by how Laura Ingalls Wilder's "Little House on the Prairie"created a world for me to experience the physical and social forces of the American frontier life. This propelled my interest in the colonial system that I since have endeavored to understand in a broader sense, especially how it has framed and oppressed Native Americans. The series also touched on social issues of the 19th century, such as anti-Semitism and racism, which are resurgent today. Although Wilder's narratives had their own blind spots, they fostered my interest in the concept of the American Dream and the contradiction that this dream did not allow non-white people to enjoy the romantic frontier life depicted in the series. I became fascinated by how personal narratives of ordinary people speak about the past, even as their lives are constrained by larger social forces.
Intellectual curiosity drew me to pursue U.S. history 8,000 miles away from home. At DePauw, the thrill of the unexplored diary of a Civil War prisoner of war transformed my understanding of history as a discipline. Working as co-editor of a diary by James Riley Weaver – who became a DePauw professor – was my first professional experience with history. In 2011, Brian Casey, then president of DePauw, received Weaver's diary, which documented Weaver's life as a Union cavalry officer, experiences as a POW in Confederate officers' prisons and return to civilian life.
Editing this diary was a collaborative process. Archivist Wesley Wilson uploaded the 700+-page diary on Flickr, an online photo-sharing application, and Tony Klingensmith, an independent scholar, used the images to transcribe the diary. I received a student-faculty summer research grant that enabled me to edit Klingensmith's draft with Wilson and John Schlotterbeck, then a history professor, in 2015. Unlike other prisoners, Weaver avoided sectional rancor and recorded a comprehensive account of his experiences, thereby providing an unusual angle of vision into life in the Confederacy.
The excitement of spending a summer in the DePauw Archives and editing Weaver's diary inspired me to pursue history as my lifelong career. Smelling the earthy and sweet odor of something that has been in this world for more than 150 years; feeling like a detective as I used a magnifying glass to transcribe almost illegible words; and exploring the caves of archival material on Weaver made my heart bounce every single day that summer. At first, Weaver's writing looked only like scribbles but, after a couple of weeks in the quiet stacks at Roy O. West Library, I was able to decipher his handwriting. I always had a 19th-century English dictionary in my hand to look up words not frequently used today. When I saw Weaver used the term "ague," I was exhilarated because Laura Ingalls Wilder also used this word to talk about malaria.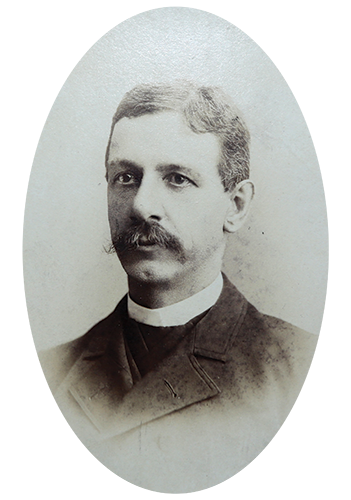 Personal accounts of ordinary people transmit significant sociocultural narratives of the past. Through editing Weaver's diary, I was moved by how his religious faith, racial beliefs and commitment to the Union wavered and he experienced physical, mental and psychological strain during the 17 months of incarceration. He made remarks like "hunger is good sauce," "when I think of spending the war here, I get the horrors" and "I fear some evil may grow upon us either bodily or mentally th[r]ough this confinement." I became more and more interested in the history of psychology and the ways in which people of this time described mental conditions when they are not yet pathologized in the medical world.
It continues to be my desire to bring personal stories to life. Weaver's diary was a gateway to read more about Cherokee removal, the caricature of blacks in prison minstrel shows and the devastating effects of poor sanitation during the Civil War. Weaver mentioned many historical markers that I knew little about before I edited this diary. I believe that personal stories give the reader an opportunity to cultivate a relationship with a historical actor. Just like building a relationship with a friend, I became invested in understanding the world view that these historical actors experienced.
Currently, I am pursuing a Ph.D. in the history of science at Princeton University, where I am learning how to use multiple voices to tell a comprehensive narrative of the past. Different historical actors oftentimes tell a story in diverse ways, particularly in a settler colonial setting. I am committed to bridging these different voices to bring forth historical narratives for modern readers.
Old Gold
is a regular feature of DePauw Magazine, which is published three times a year.