DePauw University is a special place to teach and to learn. I'm inviting faculty members to share their experiences working with DePauw students.
To kick off the series, professor Samuel Autman writes about the 13-student first-year seminar he taught last fall. His class blended traditional liberal arts experiences (research, analysis, writing) with 21st-century skills (digital story-telling, media), while leveraging multiple DePauw resources that support student learning.  
-- Dave Berque, interim vice president for academic affairs
The first days of our fall first-year seminar "From Pencils to Smartphones: Discovering DePauw's History Through the Archives" were calibrated to blend playful technique with deep intellectual rigor.  From the start, I challenged my students to think of this seminar as far more than a writing class.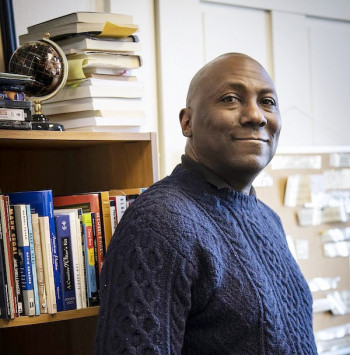 On the first day, I read these words from my syllabus: "This will be unlike any course you will ever take at DePauw. It's designed for you to make discoveries like an archaeologist; read, research and write like a historian; ask questions and interview people like a journalist; with our 21st-century smartphones, record the words, images and sounds like videographer. In this course we will weave in history, narrative and academic writing and use digital and traditional archives with an eye toward giving some kind of a public presentation of your work." 
My sneakier, unstated goal was to transform their smartphones – always potential distractions – into learning devices. As my own work has evolved from journalism and personal essays to short films and video essays, I've devoted dozens of hours into catching up to the digital revolution. 
I am convinced that 21st-century learners must leave our institutions fully able to write, speak and think for themselves, abilities we prize in the liberal arts, but now must do so in front of an increasingly digital world. I want to smartly integrate technology in my classes to help students see the value in the "digital humanities," whether or not they recognize the term.
During the first days of the semester, with careful notes from DePauw archivist Wesley Wilson, we took a two-day campus walking tour. Starting at  the Academic Quad, outside of Roy O. West Library, we visited 31 buildings and even strolled through the cemetery on Hanna Street. 
My sneakier, unstated goal was to transform their smartphones – always potential distractions – into learning devices.
On another day we walked through Greencastle square, toured the interior of the Putnam County Courthouse and stood outside on the street where John Dillinger performed his biggest heist in 1933, ending with an interactive presentation by archivist Anthony Barger at the Putnam County Library. By mid-September, students were immersed in assignments matching descriptions in the book "DePauw: A Pictorial History" of places they had toured to the people for whom the buildings were named even the architects.
The students' biggest shellshock occurred when they realized they had to write research papers exploring students' lives and traditions, plus historical buildings, during the days of famed scientist Percy Julian a century ago. As the stakes rose, they were poring through issues of The DePauw, The Mirage and hundreds of archival and online documents, slowly moving into research mode. 
The DePauw archives are a substantial digital and physical collection, including the Indiana Methodist Church archives. Unfortunately, hundreds of students matriculate through DePauw without ever visiting, only to discover it years later as alumni. 
Many students told me that the opportunity to create their own videos enticed them to choose my seminar. To encourage that interest, I invited specialist collaborators across the university into our classroom to help students prepare their video projects. This was the most ambitious interdisciplinary experiment of my teaching life and I was quite nervous. 
This was the most ambitious interdisciplinary experiment of my teaching life and I was quite nervous.
Librarian Brooke Cox showed the class how to dive deeply into the digital collections. Veronica Pejril, director of Faculty Instructional Technology Support, trained them in using Audacity, a free digital audio editor and recording application. University videographer Joel Bottom discussed shooting and editing videos. Michael Boyles, director of the Tenzer Technology Center, gave a tour of his center and let them explore virtual-reality technology.
Thanks to side-by-side edits with many of the aforementioned collaborators, as well as Jonathan Nichols-Pethick, director of the Pulliam Center for Contemporary Media, and student assistants from the Information Technology Associates Program, we can be proud to present these projects to the world. 
Sitting in East College room 108 and listening during two days in December as the students explained their projects, I swelled with gladness. My experiment had succeeded. I could see clearly that the interviewing, image gathering, script writing and producing video essays had forced them to master their material integrating multiple intelligences.  
I had moved myself and my students into a new kind of learning.
While I truly am proud of each video the students produced, I was especially touched by Nanami Mezaki, whose video traced the history of DePauw's first international students who were from Japan, her homeland.
"I am glad that I could take your class in the first semester of college," Mezaki wrote in an email.  "Your feedback is always helpful and you always make us interested in materials and research. Since it was my first time to take a class in English whose style is completely different from that in Japan, I was very worried. But thanks to your help and teaching, I was able to understand the material and enjoy the class. Thank you so much."