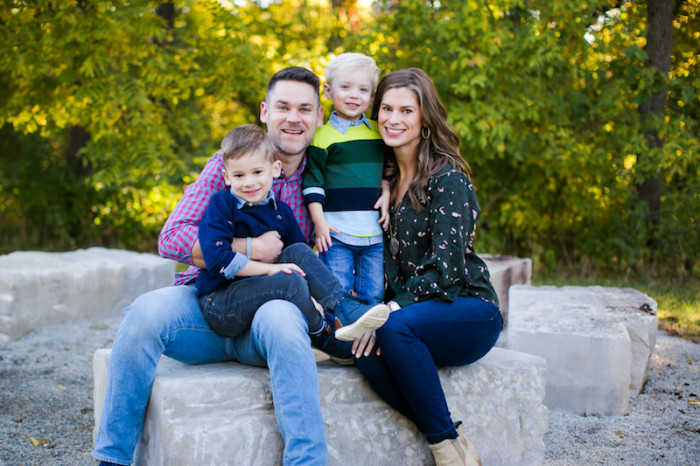 DePauw means a lot to Andrea Speller Klemeyer '06 and her husband Matt Kleymeyer '04. It's where they met each other and many lifelong friends. Their gratitude for these relationships and for the transformative experiences offered to them during their time at DePauw are what keeps them involved with the university.
Some of those transformative experiences for Matt included his practices and competitions as a member of the DePauw men's basketball team where, he said, he learned about teamwork, success and humility.
Andrea said in an email that her leadership roles in student organizations proved influential in shaping a skillset that has been instrumental in her career. "As a freshman and sophomore, I loved being involved with Union Board and putting on awesome events (I still can't believe we had Black Eyed Peas and Ben Folds in Kresge Auditorium!). From there I was advertising and promotions director at WGRE and was able to hone my skills on developing sponsorship packages and creating branding campaigns for the station. I also participated in internships with an Indianapolis advertising agency and the Philadelphia Eagles."
Andrea is owner of AK Communications, which helps businesses grow through strategy and implementation of marketing, branding and digital plans. She previously was with the Indiana Design Center for 11 years and served as executive director.
"I felt a strong sense of community at DePauw, whether in the academic or social experience," Andrea said. "With that, came a sense of responsibility and accountability to my professors and peers. I wanted to produce high-quality work because I knew my professors put the time in to ensure their feedback and critique would help me to improve. While living in the sorority, we all had to navigate leading our peers and friends. It can be a tricky dynamic but certainly relevant to the life experiences that were ahead of me. Fast forward to my career, I continue to be driven by projects that are collaborative and believe as team members we have a responsibility to push each other to put forth the best versions of ourselves and work."
Matt's love for DePauw carried through his first job, as he began his career fundraising for the DePauw Annual Fund (now The Fund for DePauw). "Through that experience, I met and worked with so many alumni of all class years furthering my connection with and love for DePauw," he said.
For the past 10 years, Matt has led the Indiana office of Nashville-based Bernard Health, overseeing its employee benefits practice in the state. "Looking back, DePauw did an excellent job of introducing the importance of good time-management skills at an early age," he said. "It's a unique place in that there's so much you can be involved in that you really need to prioritize your schedule. That has helped a lot in my professional and personal life." He added that not a day goes by where he doesn't interact with at least five people he knew at DePauw.
"I believe the well-rounded experience at DePauw shapes how we balance areas of our lives," said Andrea. "To this day, we are focused on family and friends, service and philanthropy, and professional work that has a positive impact on those we serve."
Both Matt and Andrea said that, in a world driven by technology, social media and 24/7 news cycles, their hope is that DePauw continues to encourage its students to think critically yet engage with one another as human beings. "We live in a relationship economy, and DePauw's historical standing as a leading liberal arts institution offers it a unique opportunity to be a leader in shaping its students for the jobs of the future," Matt said.
That philanthropy and service includes their involvement with DePauw. "As alumni, we feel it's important to give back to a place that gave us both so much," Andrea said.
Since graduation, they've been committed members of the Washington C. DePauw Society (the university's leadership giving circle). Matt is a member of the Alumni Board and Andrea has stayed connected by co-chairing class reunions. 
"We're also both known to pitch the DePauw experience to just about any high school student we meet," Andrea said. "Just ask the neighborhood babysitters who come over to watch our boys."
The Kleymeyers live in Carmel, Indiana, with their sons Aiden, 6, and Carter, 3, and their dog, Cheaney. They spend their free time in activities that help their young sons burn their endless supply of energy, such as coaching the boys' sports teams and enjoying backyard barbecues with family and friends.
If you are interested in learning more about volunteering for DePauw or becoming a member of the Washington C. DePauw Society, call 765-658-4085 or email annualgiving@depauw.edu.