Chemistry and Biochemistry
DePauw's innovative curriculum provides a solid foundation and offers majors in both chemistry and biochemistry.
Highlights
In the News
Browse news stories related to the department of chemistry and biochemistry.
Read More
Department History
Read about the history of the department.
Read More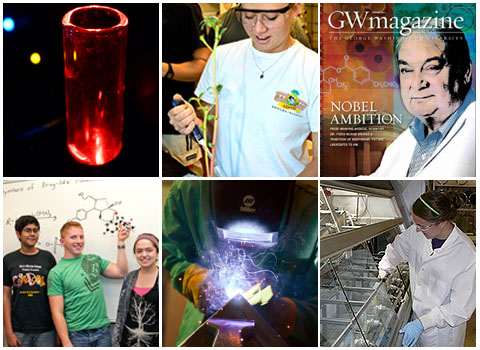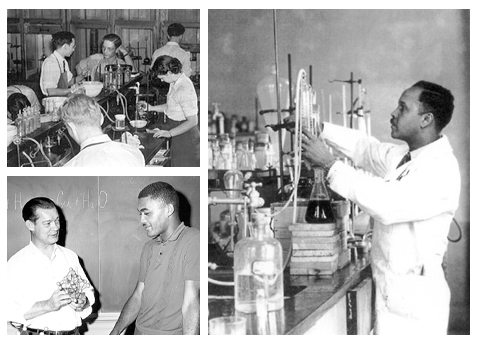 Effective Jan 4, 2021, The chemistry administrative assistant will physically be in the office MWF 8am-noon. Other staff members will be will be working remotely but will available for either in-person or remote appointments via email

Monday - Friday, 8:00 am to 4:00 pm
Jackie Roberts, Department Chair - jroberts@depauw.edu
Mary Giles, Administrative Assistant - mgiles@depauw.edu
Beginning Jan 4, 2021, Mary Giles will be physically in the office (JUL316) on MWF 8am-12noon, and working remotely other times. checking her email and dispersing those messages to the correct individual(s).
About the Majors
Coursework in the chemical sciences prepares students to understand the physical and living world and to make scientifically informed contributions to many academic fields and society at large. Biochemistry majors pair a chemistry scaffold with molecularly focused course-work in biology. The curriculum provides students considerable flexibility to explore sub-disciplines of chemistry in ways they find most stimulating. Students engage in collaborative research with faculty and participate in internships at national laboratories, in industrial or medical settings.
Careers include drug development, instrumentation, bio-technology, cosmetics, environmental monitoring and agrochemicals. Students go on to graduate study in a variety of fields, including medicine.
Important message from DePauw's chemistry Dept
Dear Students,
The members of the Department of Chemistry and Biochemistry add our voices of support to the statement from the Africana Studies department condemning the systemic, ongoing violence perpetrated against black people. We pledge our continued commitment to reflection and action, and to be allies to people of color. As a department, we will continue to research and incorporate into our teaching, pedagogies that help break down barriers to inclusion and that counter racist ways of teaching and learning.
The Department of Chemistry and Biochemistry stands with our students and alumni of color. As a department, we honor the life of Percy Julian, for whom DePauw's science and math center is named, to recognize the significant contributions that black chemists have made to our discipline even when facing outright resistance, threats, and hostility. That this hostility still occurs is shameful. We can no longer be silent and allow this systemic oppression to continue. Persons of color continue to make outstanding contributions to the chemical sciences (see here for some great examples) despite the barriers they encounter. It is time for the barriers to success to be torn down. #BLM
The Department of Chemistry and Biochemistry
Sharon Crary
Hilary Eppley
Mary Giles
Bridget Gourley
Dan Gurnon
Jeff Hansen
David Harvey
Rich Martoglio
Selma Poturovic
David Roberts
Jackie Roberts