Rebecca Schindler
Professor of Classical Studies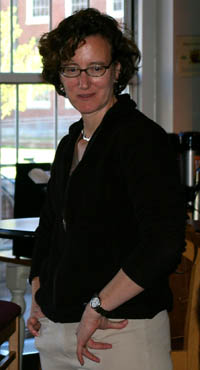 Rebecca Schindler earned her PhD in Classical Art and Archaeology at the University of Michigan in 1998, with a dissertation on "The Cult of Aphrodite in the Greek West." She has a B.A. from Wellesley College, and has also studied at the American School of Classical Studies in Athens, and at Hebrew University in Jerusalem. Before coming to DePauw, she taught at Stanford and the University of Cincinnati. She has been a visiting scholar at the American Academy in Rome.
Rebecca's research interests focus on the roles of women in Greek religion. In particular, she works on Greek sanctuaries in Southern Italy and Sicily that were dedicated to female deities and at which women served as priestesses and/or participated in the religious activity of the sanctuary. Rebecca has worked on developing GIS (Geographic Information Systems) for the study of Greek sanctuaries, and (along with Pedar Foss) serves as the co-PI of the Collaboratory for GIS and Mediterranean Archaeology (CGMA), a partnership between American liberal-arts colleges to develop a for regional survey projects in the greater Mediterranean. In addition to her work in Italy, Rebecca has done fieldwork in Tunisia, Cyprus, and Turkey. Most recently she was involved with the Hacimusalar Project in Turkey as the field director.
Rebecca's teaching includes courses in Art and Archaeology as well as Classical Mythology, Latin, and first year seminars on such topics as Alexander the Great and Women in Ancient Greece. Rebecca has recently completed a Faculty Fellowship on teaching about the ethics of Cultural Heritage. She has offered a seminar on this topic and she regularly includes units on ethics in her archaeology courses, and has worked with Terri Bonebright in the Psychology department to study student attitudes towards cultural heritage. The results of this project will lead to developing more dynamic teaching materials on the subject of archaeological ethics. Rebecca and Terri have presented papers on this topic and published a preliminary article on the results of their work.
Rebecca has been engaged with professional service through the Archaeological Institute of America. She recently completed a four-year term as the co-Editor (along with Pedar Foss) of the American Journal of Archaeology (AJA) book reviews. She is now the President of the Central Indiana Society of the AIA.
On DePauw's campus, Rebecca has served on the Student Life and Academic Atmosphere Committee, the Task Force for the Status of Women, the Women's Studies Steering Committee, the 2009 Summer Working Group, and the First-Year Seminar Committee. Rebecca is currently Chair of the Classical Studies Department and the faculty advisor for the Marshall Scholarship Program.