Harold Petersen '55: Rector Scholar, Economist and Poet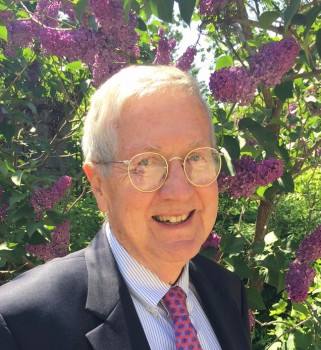 "I came from a small-town in Minnesota, where my father wanted me to go into business with him, and half the town thought I should become a Lutheran minister," said Harold Petersen '55. "Then a high-school teacher told me about the Rector Scholarships at DePauw. I applied, took an exam, and was awarded a full-tuition scholarship. My dad said, 'You can't very well turn that down,' and I was free."
Harold said he came to DePauw intent on becoming a writer. "My freshman roommate was John Champlin Gardner, who went on to become a leading light of American fiction. When I saw how devoted John was to literature, and how much more he knew than did I as a freshman, I decided to major in economics," adding that some of the roommates' adventures are chronicled in Gardner's posthumously published notebook from his DePauw years and in Gardner's biography.
Elected to help plan Religious Evaluation Week during his senior year, Harold and and a friend proposed what they saw as a blockbuster theme – Let's Evaluate the Hell out of Religion. "Alas, we were ahead of our time," said Harold, "and the planning for the event was taken away from us. We caught a bit of flak for this, but the memory of it is precious to me."
Harold enjoyed representing the Men's Hall Association on the Student Senate and handed down his blue blazer to fellow Men's Hall representative Vernon Jordan '57. "Vern was a head taller than me and had longer arms, so you can only imagine how the blazer fit him," Harold said, adding, "Vern has done more for me, and for DePauw, than he can possibly imagine."
Harold earned a Ph.D. from Brown University and became a professor of economics at Boston College. He met his wife on his first day at the college in 1960. "Karen was behind the desk at the library. I was smitten from the very first day and spent a good deal of time at the library," he said. "We were engaged by November and married the following June."
Harold and Karen have three children and seven grandchildren. He retired after 56 years of teaching at Boston College, and she retired after 30 years at the library. They are both active volunteers in their community and in their church. Avid sports fans, they also hold season tickets to football, men's basketball, women's basketball, and men's hockey at Boston College.
In addition to a successful career, Harold's DePauw liberal arts education nourished his continuing passion for literature and writing. "I write a bit of poetry, and I volunteer with a writers' group of homeless that meets every Tuesday morning, he said, "I am a member of three book groups," he said, "and I have written a memoir of my years at Boston College which at some point will be published (it does contain a few pages about DePauw)."
Harold has supported The Fund for DePauw (formerly the Annual Fund) for many years and attended his 50-year reunion in 2005. With news of the approaching centennial of the Rector endowment, Harold decided to designate DePauw's Rector Scholarship endowment as a beneficiary in his will. "I wanted to make a statement of how important the Rector Scholarship was to my own development as a person," he said. "DePauw was there for me, giving me the foundation for a meaningful life. I very much want for DePauw to be able to continue to do that for others," adding that his gift is in memory of all of his professors at DePauw, all of the friends he met as a student, and even the administrators with whom he locked horns over Religious Evaluation Week.