GOLD Council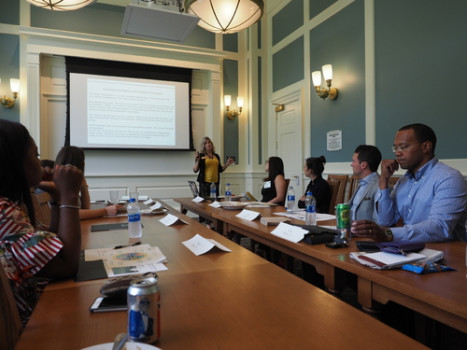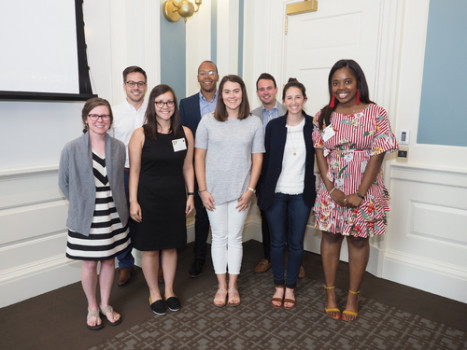 The GOLD Council is a group of alumni volunteers that represent young alumni and lead the volunteer efforts of the Graduates of the Last Decade program.
The GOLD Council aims to enhance the DePauw community through the promotion of alumni engagement and annual giving participation among graduates of the last decade. Council members act as regional alumni leaders and coordinate GOLD alumni events and volunteer efforts. These efforts primarily involve Annual Giving, Career Services, the Senior Gift Drive, Admissions, and the 5th and 10th Reunion Celebrations.
The GOLD Council serves as a vehicle for all young alumni to communicate their ideas, questions, and concerns to the Alumni Association Board of Directors and the University. Members convene on campus for semi-annual meetings during Old Gold Weekend in the fall and Alumni Reunion Weekend in the summer.
If you are interested in joining the GOLD Council, or know someone who you would like to nominate to join, please contact Nigel Bruce at nigelbruce@depauw.edu.
The current members of the GOLD Council are:
Name
Location
Class Year
Laura Pearce
President
Chicago, IL
2010
Kevin Bugielski
Vice President
Oak Park, IL
2016
Austin Miller
Secretary
Chicago, IL
2013
Ellen Tinder
Development Committee Chair
Indianapolis, IN
2017
Lauren Abendroth
Minneapolis, MN
2015
Vince Aguirre
Greencastle, IN
2012
Emily Reavis Boehme
Memphis, TN
2012
Stewart Burns
West Lafayette, IN
2013
Nicole Burts
Indianapolis, IN
2013
Kortney Cartwright
Minneapolis, MN
2014
Caitlin Cavanaugh
Indianapolis, IN
2009
Ellen Clayton
Leawood, KS
2012
Jordan Davis
Humble, TX
2014
Maggie Erzinger
Chicago, IL
2012
Adam Gilbert
Chicago, IL
2010
Stephanie Grass
Carmel, IN
2012
Rachel Hanebutt
Somerville, MA
2015
Devyn Hayes
Indianapolis, IN
2017
Andrew Hooley
Indianapolis, IN
2014
Siobhan Hunter
Chicago, IL
2009
Kreigh Kamman
Indianapolis, IN
2012
Margaret MacPhail
Indianapolis, IN
2015
Molly Madden
Shelbyville, IN
2018
Kyle Moore
Indianapolis, IN
2011
Jim Perry
Indianapolis, IN
2015
Andrew Smith
Brooklyn, NY
2011