¡Hola Havana!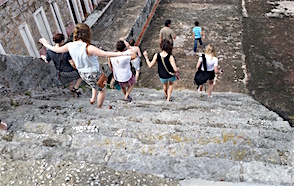 February 19, 2016
During DePauw's first Winter Term trip to Cuba since the thaw in relations between that country and the United States, a group of DePauw students experienced Cuba's unique culture and studied its healthcare system during January 2016.
The Winter Term trip grew out of a new relationship between DePauw University and Hendricks Regional Health, whose CEO, Kevin Speer, suggested that medical personnel accompany students on a trip to Cuba. Hendricks Regional Health has united with the University to create a cost-saving and streamlined healthcare experience for students and staff. The new relationship is bringing expanded medical care and programming to the DePauw community.
Unfortunately, no doctors or administrators were able to fit such a lengthy trip into their schedules. So, the students were accompanied by Mandy Brookins-Blinn, DePauw's director of off-campus programs, and Angela N. Castañeda, Edward Myers Dolan Professor of Anthropology and associate professor of anthropology, who focuses her research on reproduction and motherhood.
When asked why Cuba was selected for a Winter Term course, Castañeda said, "Cuba can be considered a country of contradictions, because their economic development does not appear to match their healthcare development. Cuba produces astounding outcomes to rival much wealthier nations, including their low infant mortality rate – 4.63 percent to the United States' 5.87 percent, and Indiana's 7.7 percent."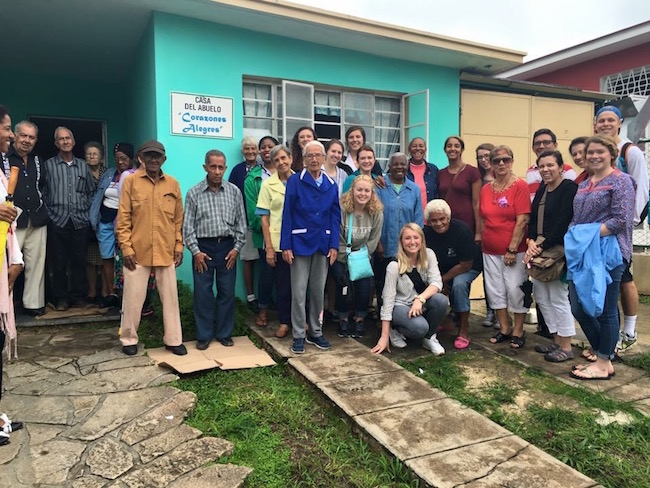 To maintain the low infant mortality rate, mothers in Cuba with any kind of medical issue are strongly encouraged to live out their pregnancy in state-run homes for medical monitoring and support. Professor Castañeda was particularly interested in learning about the daily lives of these women and comparing the "real and ideal cultures of the program," because there are flaws and benefits in every system.
Students in the course were interested in careers in the medical field, and many of them wanted to investigate the differences in Cuba's healthcare system, and to consider its application to other systems. "Cuba and the United States are in a liminal stage right now, because the embargo still exists, even though relations have thawed," Castañeda explained. "An end to the embargo would not necessarily represent a one-way street from the U.S., because Cuba has medical advancements that would be beneficial to people in our country as well."
For example, Cuba has developed a treatment against diabetic foot amputations and an anti-tick vaccine for cows that would decrease chemical bathing of livestock, according to Castañeda. And senior Sheela Jayaraman learned that "Cuba is the first country to eradicate HIV transmission from mother to child." She was impressed with these accomplishments, especially considering that "parts of Cuba are crumbling and some people still drive cars from the 1950s."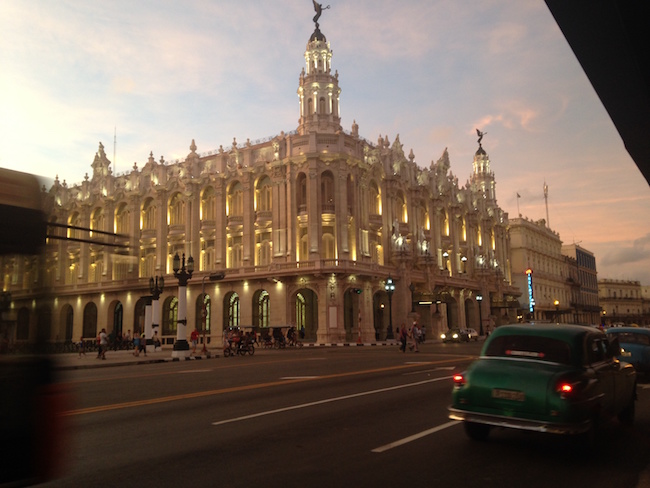 Jayaraman is applying to graduate schools to study genetic counseling, and she appreciated learning how Cuban doctors care about holistic and preventative measures as well as diagnosis. "I loved living with the host family and learning about Cuban culture firsthand. Instead of living in a hotel, five of us lived with a family in working-class Havana," she said. "I got to experience the night life, including a cool salsa club and dance lessons." She was surprised to discover how easy it was to navigate the city without knowing much of the Spanish language, because the Cubans she met were so welcoming.
The Faculty of Latin American Social Scientists at University of Havana hosted the DePauw students, who attended lectures every day and visited a family doctor, organic farm, biotech institute, maternity home and more.
Back