DePauw's 200 Medley Relay Earns All-America Honorable Mention
March 21, 2012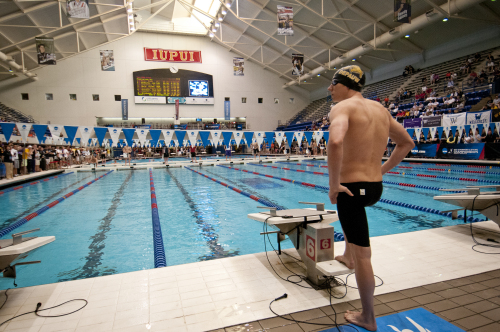 Indianapolis, Ind. - DePauw's 200-yard medley relay of Alex Alfonso, Matt Kukurugya, Matt Gleason and Joe Hessburg earned honorable mention all-America after finishing 16th in 1:33.63 at the NCAA Division III Swimming and Diving Championships at the IU Natatorium.
The relay entered the meet seeded ninth in Division III and finished 15th in the prelims in 1:32.99.
In other prelim action this morning, Casey Hooker was 22nd in the 500 freestyle in 4:35.34, while Matt Gleason was 37th in the 200 individual medley in 1:54.47 and John Montgomery finished 28th in the 50 free in 20.90 seconds.
The Tigers return to the pool on Thursday morning with prelims starting at 10 a.m. DePauw's competition schedule is listed below.
Thursday, March 22
200 Freestyle Relay
100 Butterfly (Matt Gleason)
200 Freestyle (Casey Hooker, John Montgomery)
400 Medley Relay
Friday, March 23
200 Butterfly (Matt Gleason)
100 Breaststroke (Matt Kukurugya)
800 Free Relay
Saturday, March 24
100 Freestyle (John Montgomery)
200 Breaststroke (Matt Kukurugya)
400 Freestyle Relay
1650 Freestyle (Casey Hooker)
Back