Tigers Wrap Up 2012 Season with Monon Bell Loss at Wabash
November 10, 2012
Crawfordsville, Ind. - DePauw's offense crossed midfield on just one possession and Wabash back Tyler Holmes rushed for 169 yards as the 25th-ranked Little Giants took a 23-0 Monon Bell game win over the Tigers on an unseasonably warm, breezy day at Hollett Little Giant Stadium.
DePauw finished its season with a 2-8 overall record and 1-6 in its first season of North Coast Athletic Conference play, while Wabash is 8-2 overall and 5-2 in the NCAC.
Wabash also extended its lead in the overall series to 57-53-9 and took its first lead (38-37-6) in games played for the Monon Bell since 1961.
The teams played a scoreless first quarter as the hosts were penalized eight times. DePauw did manage to move into Wabash territory on its final series of the quarter but was forced to punt.
Each team punted four times before Wabash started its first scoring drive on its own 41. Holmes began the series with a pair of six-yard runs and two plays later Chase Belton completed a 20-yard pass play to Houston Hodges on third-and-nine.
The Tigers were whistled for pass interference on the next play, giving Wabash the ball on the DePauw 11. After a two-yard loss, Wabash took the lead on Belton's 13-yard pass to Sean Hildebrand with 6;52 left in the half. The extra point attempt glanced off the left upright.
On their next series, the Little Giants crossed midfield, but three false start penalties and one delay of game forced Wabash to punt. After DePauw punted on its next possession, Wabash took over on its own 43 with 2:03 remaining.
After Belton completed passes to Hildebrand and Andrew Gibson, the Little Giants entered the red zone. The drive, however, stalled and Ian MacDougall came on to boot a 37-yard field goal with 38 seconds remaining to make it 9-0.
After being forced to punt on their opening drive of the second half, the Tigers stopped the Little Giants on three plays, but were called for roughing the kicker which gave Wabash a first down and kept the drive alive. Wabash kept the ball on the ground for the next nine plays and extended the lead to 16-0 after Holmes scored on a 9-yard run with 6:46 left in the third.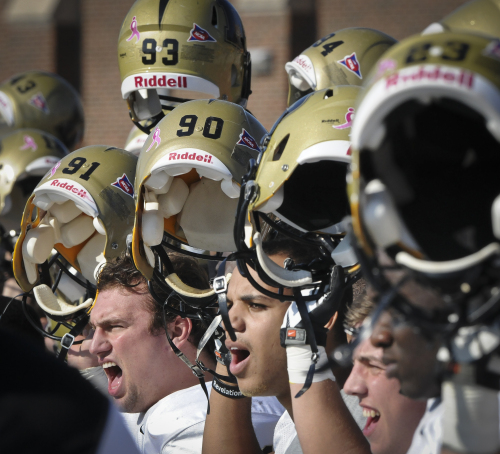 MacDougall missed a 30-yard field on Wabash's first drive of the fourth, but DePauw quarterback Drew Seaman was picked off by Austin Hodges at the Wabash 17 two plays later.
Wabash's final score came on a Troy Meyers 5-yard run with 3:01 left.
DePauw totaled just 142 yards of offense to Wabash's 432 and the Little Giants gained 22 first downs to the Tigers' 10.
Seaman completed 14 of 31 passes for 103 yards, while Justin Murray was 2 of 7 for four yards. Nikko Sansone hauled in six catches for 40 yards to lead the Tigers.
Holmes picked up his 169 yards on 33 carries, while Belton completed 10 of 24 for 157 yards. Hildebrand had three catches for 33 yards.
Robby Schuler paced DePauw with a career-high 18 tackles, while Cody Crook added 12. Jake Konovsky and Patrick Keller each had a sack for the Tigers, while Crook and Konovsky each had 2.5 tackles for loss.
Justin Woods led Wabash with seven tackles and Nate Scola added six. Tyler McCullen and Jorge Diaz-Aguilar shared a sack and McCullen had a team-high 1.5 tackles for loss.
For more information on the DePauw football program, follow DePauw on Twitter (@DePauwAthletics / @DePauwTigersfb) or like them on Facebook (www.facebook.com/DePauwAthletics).
Get a DVD of today's game, which will be professionally replicated and contain bonus materials, by accessing this online order form.
Back