Tigers Take Three of Four NCAC Field Hockey Top Honors
November 16, 2012
Greencastle, Ind. – The postseason awards keep rolling in for the DePauw field hockey squad as Tigers collected three of the top four North Coast Athletic Conference annual awards and seven student-athletes were chosen to all-conference teams.
The announcement comes as the Tigers prepare for their first-ever NCAA Division III semifinal appearance. DePauw faces Tufts tomorrow at 11 a.m. at William Smith College after knocking off top-seed and previously unbeaten Middlebury in the third round.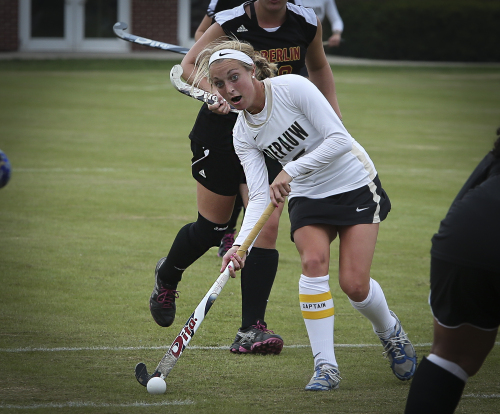 DePauw nearly swept the NCAC's postseason awards after senior forward Margaret Ellis (St. Louis, Mo./Whitfield) took home Offensive Player of the Year for the second straight year, junior midfielder Chelsea Cutler (Victoria, British Columbia/Mt. Douglas Secondary) copped the Defensive Player of the Year award and head coach Gina Preston Wills was voted Coach of the Year.
Ellis (pictured above right), who also was the Southern Collegiate Athletic Conference Offensive Player of the Year in 2010, led the Tigers with 27 goals and was second with 10 assists for a team-high 64 points. Earlier this year she broke DePauw's 25-year-old career records for goals and points, held by Colleen Konicek and which now stand at 75 goals and 172 points.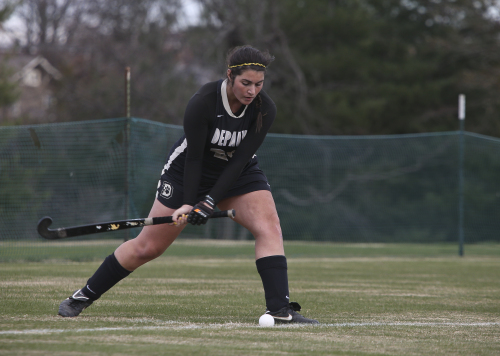 Cutler (pictured left) leads a DePauw defense which paces Division III in both shutouts (15) and goals against average (0.54). The Tigers' 15 shutouts is an NCAC record and equaled the DePauw mark set in 1999. DePauw leads Division III in both categories this year. Cutler also scored eight goals and assisted on six.
Preston Wills (pictured below) is in her sixth season with the Tigers with an overall record of 88-31 and she directed DePauw to the outright NCAC regular season title and the conference tournament championship. The Tigers' 21 wins easily broke the previous school record of 17 and the team collected the first two NCAA postseason wins in program history.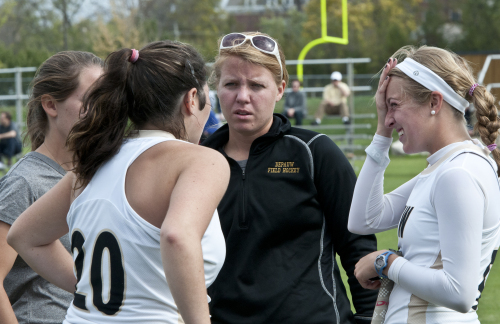 Joining Ellis and Cutler on the first team was freshman midfielder Grace Goodbarn (Highlands Ranch, Colo./Mountain Vista). Goodbarn started all 22 games and assisted on a pair of goals.
DePauw also placed three on the second team including senior forward Bridgette Shamleffer (St. Louis, Mo./St. Joseph's Academy), junior defender Taylor Helms (Oklahoma City, Okla./Casady School) and sophomore forward Paige Henry (Louisville, Ky./Kentucky Country Day).
Shamleffer is second on the team with 16 goals and 36 points, while Helms has played solid defense in helping the Tigers to the best goals against average in Division III. Henry was third with 13 goals and 35 points and second with six game-winning scores.
Sophomore forward Maggie Campbell (Winnetka, Ill./New Trier) was the lone DePauw honorable mention selection.
For more information on the DePauw field hockey program, follow DePauw on Twitter (@DePauwAthletics / @DePauwFH) or like them on Facebook (www.facebook.com/DePauwAthletics).
Back