Ense Resigns to Take Division I Coaching Position
August 28, 2013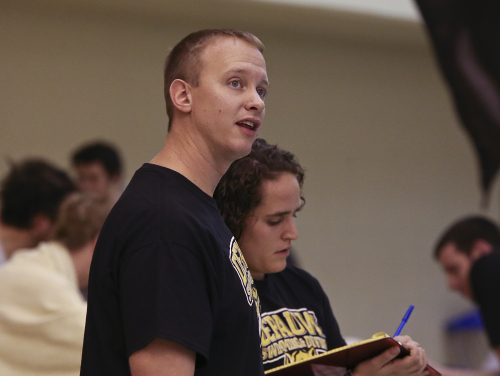 Greencastle, Ind. - DePauw women's swimming and diving head coach, Matt Ense, has announced his resignation to become the assistant men's and women's swimming and diving coach at Division I University of Cincinnati.
The national search for Ense's replacement is underway with plans to fill the position by October. Assistant coach Alyssa Swanson will direct day-to-day activities during the search.
"I'm grateful to Matt for all that he did in improving and elevating our women's swimming and diving program and challenging our student-athletes to reach their potential," said Stevie Baker-Watson, Theodore M. Katula Director of Athletics and Recreational Sports.
Ense returns to his hometown after a year in which he led DePauw to a third-place showing at the North Coast Athletic Conference Swimming and Diving Championships. Additionally, five student-athletes represented the Tigers at the NCAA Division III Championships as the DePauw tied for 27th in the nation.
The Tigers earned College Swimming Coaches Association of America Team Scholar All-America honors both semesters of the 2012-13 season and posted a 3.41 team grade point average during the second semester.
For more information on the DePauw women's swimming and diving program, follow DePauw on Twitter (@DePauwAthletics/@DePauwWswim) or like them on Facebook (www.facebook.com/DePauwAthletics),
Back