Cutler and Henry Earn All-America Honors
December 2, 2013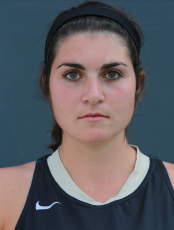 Greencastle, Ind.- Senior Chelsea Cutler (Victoria, B.C./Mt. Douglas Secondary) has added another yet another accolade to her impressive DePauw career after being named a first team selection to the 2013 Longstreth/National Field Hockey Coaches Association (NFHCA) Division III All-American Team. The honor comes just two weeks after Cutler was named the 2013 Longstreth/NFHCA Division III Great Lakes Region Player of the Year.
Cutler (pictured right) had an impressive career on the DePauw field hockey team setting the career record for games started with 83. The two-time North Coast Athletic Conference Defensive Player of the Year (2012-13) led the Tigers to a 17-5 overall record and a first place finish in the NCAC regular season and postseason tournament. Additionally, she was selected to the 2013 All-NCAC first team for the third straight season and was named the 2013 NCAC Tournament MVP.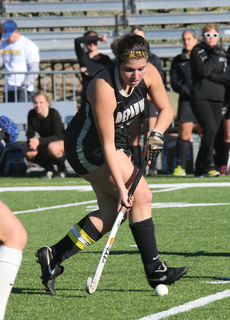 In her four-year career, Cutler and the Tigers have compiled an overall record of 67-17 including a 39-2 mark in NCAC play. During the 2013 campaign Cutler scored 11 goals and added 11 assists and was part of a DePauw defense that ranked eighth in Division III in goals against average with just 0.90. For her efforts, Cutler joined fellow senior Taylor Helms (Oklahoma City, Okla./Casady School) as a member of the 2013 Front Rush/NFHCA Division III Senior Game November 23, in Virginia Beach, Va.
While at DePauw, Cutler was named a 2012 All-American Third Team and earned a number of other awards including: 2010 Southern Collegiate Athletic Conference (SCAC) Academic Honor Roll, 2010 All-SCAC First Team, 2010 SCAC Newcomer of the Year, 2010-12 Great Lakes All-Region First Team, 2010-12 NFHCA Academic Squad, 2011-13 All-NCAC First Team, 2012-13 NCAC All-Tournament Team and 2013 Synapse Sports Division III Defensive Player of the Year.
Joining Cutler was junior Paige Henry (Louisville, Ky./Kentucky Country Day) who earned third team honors.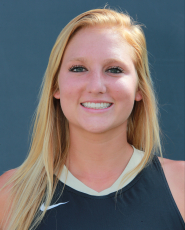 Henry (pictured right) paced DePauw's offense with an NCAC leading 20 goals and 43 total points. She fired 110 shots leading the Tigers' attack that outshot opponents 512-113 and outscored the opposition 76-20.
During the 2013 campaign, Henry earned NCAC Player of the Week honors twice and was named to the All-NCAC First Team and NCAC All-Tournament team.
Back