JaMarcus Shephard '05 Promoted to Wide Receivers Coach at Western Kentucky
January 17, 2014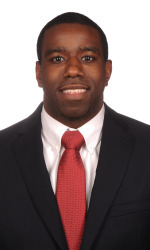 JaMarcus Shephard, a 2005 graduate of DePauw University, has been promoted to wide receivers coach at Western Kentucky University. Shephard served as a quality control assistant for the Hilltoppers during the 2013 season and was as a defensive analyst and volunteer assistant for the 2011-12 campaigns.
Jeff Brohm, who was WKU's offensive coordinator, was named the school's new head coach ten days ago. "I was able to work directly with JaMarcus this past season and came away very impressed with his ability to not only teach the wide receiver position, but to make our offense better as a whole," Brohm says. "He has excelled in everything he has done, brings a lot of life to our staff room, and will make for an excellent young position coach and recruiter. I know he's excited and will make the most of this opportunity."
As a quality control assistant last season, Shephard helped "the wide receivers transform from a run-heavy offense into a more balanced unit under then-coach Bobby Petrino," according to WKU's announcement. "A two-time Division III American Football Coaches Association All-American at DePauw University, Shephard primarily aided in defensive scheming
and identifying opponent tendencies. Additionally, he helped to monitor player academic performance and assisted in the recruiting process. During his time on The Hill, Shephard also served as a graduate teaching assistant, conducting courses in the department of kinesiology, recreation and sport from spring 2011 to fall 2012."
The piece also points out that Shephard was an assistant track and field coach at DePauw in 2007 and has also served two Indiana high schools in football coaching posts. His resume also includes working for the NCAA and the National Center from Drug Free Sport.
A physical performance (sports medicine) major at DePauw, Shephard's undergraduate career included an internship with the NFL's Philadelphia Eagles. On the football field he tied the NCAA record for kickoffs returned for touchdowns in a game with two and participated in the 2005 Hula Bowl as well as the 2004

Aztec Bowl in Cancun, Mexico. He captained both the Tiger football and track and field teams.
Shephard recently earned his master's degree in recreation and sport administration from WKU.
Access the complete announcement by clicking here.
Back