Cellist Yo-Yo Ma to Open DePauw's 2017–18 Green Guest Artist Series
May 16, 2017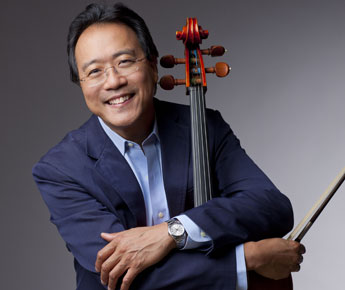 The DePauw University School of Music is proud to announce that the 2017–18 season opening concert of the Green Guest Artist Series on September 30 will feature renowned cellist Yo-Yo Ma and the Civic Orchestra of Chicago. The 8 p.m. performance in the Green Center's Kresge Auditorium -- the soloist's third appearance at DePauw -- will be presented in conjunction with the board meeting for the School of Music's 21st-Century Musician Initiative for which Ma serves as honorary chair.
A promoter of global awareness and cultural understanding, an internationally revered artist, and a rock star in the classical world, Ma has said he would like to find a word other than "classical" to describe this repertoire. The cellist suggests just saying "music."
"Bach, Mozart, Beethoven were some of the greatest improvisers of their time, and in fact, were renowned for what they were able to do. But then they also wrote things down… so I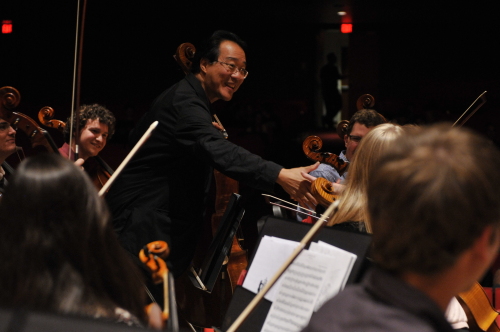 would have a template." In Ma's opinion, classical musicians are just good musicians, able to compose, to improvise and be virtuosic in what they do --including absorbing other influences and organically incorporating these ideas into their work for constant growth. (at left: Ma working with student musicians at DePauw)
The recipient of numerous awards reflecting his own growth as a musician, Ma first performed at the Green Center in 2011 as part of DePauw Discourse.
In June 2015, after cutting the customary ribbon at the opening of the music school's downtown venue, Music on the Square, he christened the space with a poignant, impromptu performance of the first movement of Bach's first Cello Suite -- the first piece of music that he ever learned.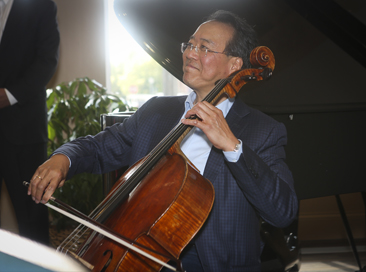 Earlier this spring, Sing Me Home, the companion CD to the feature-length documentary film The Music of Strangers, recorded with the cellist's renowned Silk Road Ensemble, received the 2017 Grammy Award for Best World Music Album. This diverse group of international instrumentalists, composers and vocalists also returns to the DePauw campus this summer for the Third Annual Global Musician Workshop, May 30–June 5, 2017, which includes a series of six free faculty and participant/artist concerts.
Whether it is his presence as a performer or his vision for the future of music, Ma's influence is deeply felt on the DePauw campus.
For tickets to upcoming Green Guest Artist Concerts and the summer event schedule, check music.depauw.edu. Sale of 2017-18 season passes and individual tickets will be announced in August.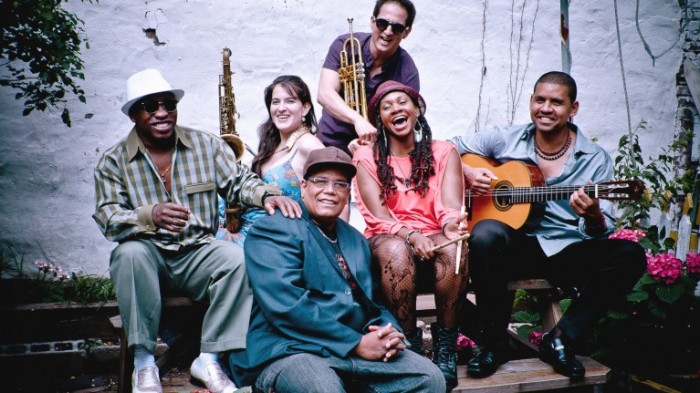 In addition to Yo-Yo Ma, highlights of the all-star 2017–18 Green Guest Artist roster include:

October 26, 2017: Gabriel Alegría, Afro-Peruvian Jazz and Dance Company: This high-voltage ensemble's insistently inventive program of traditional Afro-Peruvian music, transformed by Gabriel Alegría's highly personal synthesis of folkloric rhythms and jazz, has led to a signature accomplishment: developing the band's patented blend of deep scholarship and playfulness into a touring experience that conveys its vast knowledge of black music from coastal Perú as a way of life to its audiences. For this event, a vivacious company of Afro-Peruvian dancers will join Alegría on the Kresge stage.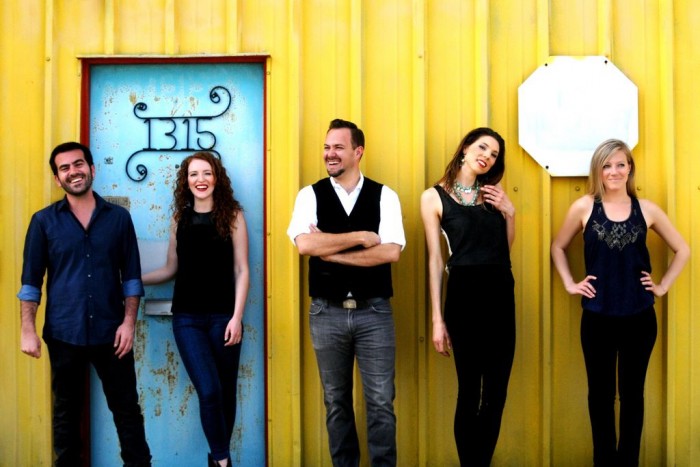 November 15, 2017: Sybarite5: "Their rock star status…is well deserved. Their classically honed technique mixed with grit and all out passionate attack transfixes the audience" is how the Sarasota Herald Tribune describes Sybarite5, the first string quintet ever to win the Concert Artists Guild International Competition. The ensemble has captured attention across the United States by forever changing the perception of chamber music performance. From the moment their bows hit the strings, this quintet of talented, diverse musicians takes the audience on an exciting ride that engages the senses and redefines the rules.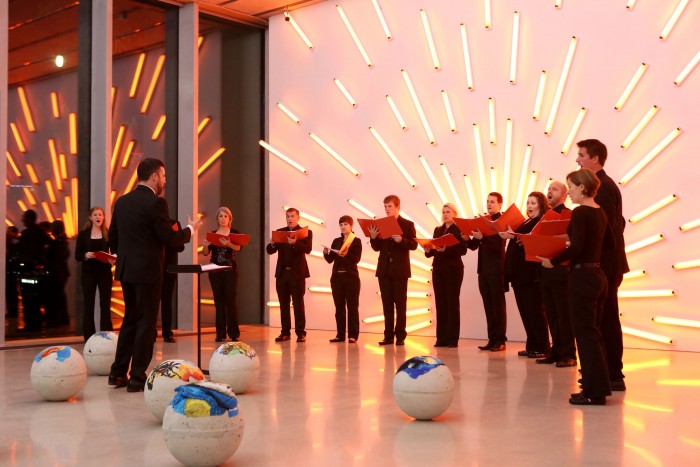 February 21, 2018: Seraphic Fire: Regarded as one of the preeminent professional vocal ensembles in the U.S., Seraphic Fire, led by founder and artistic director Patrick Dupré Quigley, brings top ensemble singers and instrumentalists from around the country to perform repertoire ranging from Gregorian chant and Baroque masterpieces to Mahler and newly commissioned works by our country's leading composers. Two of the ensemble's recordings, Brahms: Ein Deutsches Requiem and A Seraphic Fire Christmas, were nominated for 2012 Grammy Awards, making Seraphic Fire the only choral ensemble in North or South America to be nominated that year, and the only classical ensemble in the world to be nominated for two separate projects.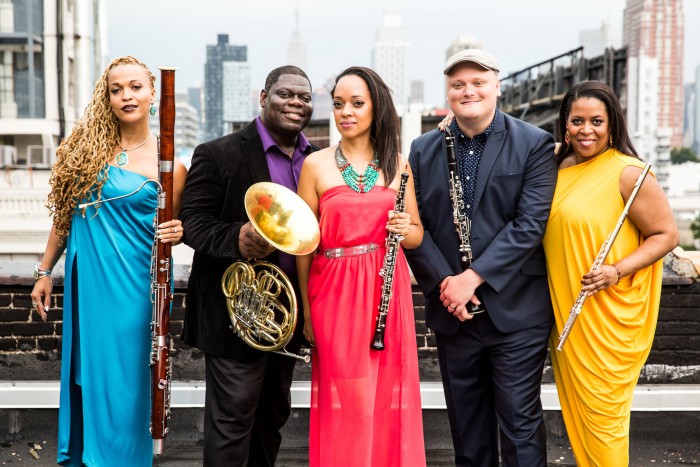 April 7, 2018: Imani Winds and The Harlem Quartet "Passion for Bach and Coltrane": Extolled by the Philadelphia Inquirer as "what triumph sounds like," the Grammy-nominated Imani Winds has carved out a distinct presence in the classical music world with its dynamic playing, culturally poignant programming, adventurous collaborations and inspirational outreach programs. With two member composers and a deep commitment to commissioning new work, the group enriches the traditional wind quintet repertoire while meaningfully bridging European, American, African and Latin American traditions. For the final Green concert of the season, Imani Winds will be joined by The Harlem Quartet, whose album Hot House, recorded with jazz master Chick Corea and percussionist Gary Burton, was a 2013 multi-Grammy Award winner.
Back