Seth Tsui '11 is Finalist in Film Scoring Competition
June 14, 2013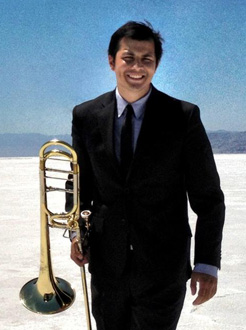 Seth Tsui, a 2011 graduate of the DePauw University School of Music, is one of five finalists in CINE's 2013 Film Scoring Competition for Emerging Composers. The winner will be announced June 17 at the Shakespeare Theatre Company's Lansburgh Theatre in Washington, D.C.
"The winner of CINE's 2013 Film Scoring Competition can choose to be added to the composer pool of scoreAscore, bypassing the audition process," according to the organization. "scoreAscore is an exclusive community of professional composers. Clients include Disney, Google, EA, Activision, NBC, Universal, Hasbro, Microsoft, Chase and others. scoreAscore provides countless music opportunities from major ad agencies, trailer houses, film studios and more."
Learn more here.
Tsui, who was a music performance major, is a composer, musician and audio engineer. He performed last July at the Greencastle Summer Music Festival. (photo at left: Tsui and legendary musician/producer Todd Rundgren in DePauw's recording studio; April 8, 2009)
You're invited to visit his website.
Back