"You Don't Need a Title to Make a Difference," Says Cindy Frey '84
December 16, 2013
"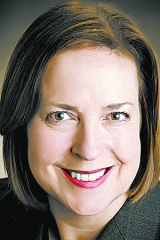 You don't have to have a title or be in a certain position to participate" in your community, Cindy Frey tells Indiana's Columbus Republic. The president of the Columbus Area Chamber of Commerce and 1984 graduate of DePauw University is featured in the newspaper, which notes her commitment to community service.
"Anybody who wants to step up and participate by being a leader at the community level can do that," says Frey, who has served on the boards of kidscommons and the Columbus Arts Council. "If you're passionate about something, get involved. I've observed some younger people, and this was true in my case as well, who become leaders only after they've obtained some kind of title, whether it's captain of the football team or president of the student council. But leadership takes many forms. You don't need a title to make a difference."
Access the complete piece at the Republic's website.
Cindy (Tibbetts) Frey majored in English (composition) as an undergraduate. She took the leadership of the Chamber of Commerce earlier this month.
Back