Luke Miller '14 is Seeing the World on a Bicycle
January 16, 2018
"While a 15,000-mile bicycle trip through 15 different foreign countries can teach a man a lot about himself, it can also provide insight into how people of other cultures live and treat others," begins a story in Ohio's Delaware Gazette. "After spending the past year-and-a-half atop his bicycle touring Asia, Liberty Township native Luke Miller said the first half of his journey to see the world has taught him the people of Asia are full of generosity." (at right: Miller in Kazakhstan)
Miller, a 2014 graduate of DePauw University where he ran cross country, spent 18 months bicycling through Asia, interacting with people and learning more about life and the world during his 15,000 mile journey that included stops in India, Nepal, Bangladesh, Thailand, China, Mongolia, Vietnam, Laos, Cambodia, Myanmar, Kyrgyzstan, Tajikistan, Uzbekistan, Kazakhstan, and Azerbaijan.
"The one takeaway I have from this trip is that in every single country I've been to, I've had people just completely go out of their way to show me hospitality and kindness," Miller told an audience this month in his Ohio hometown.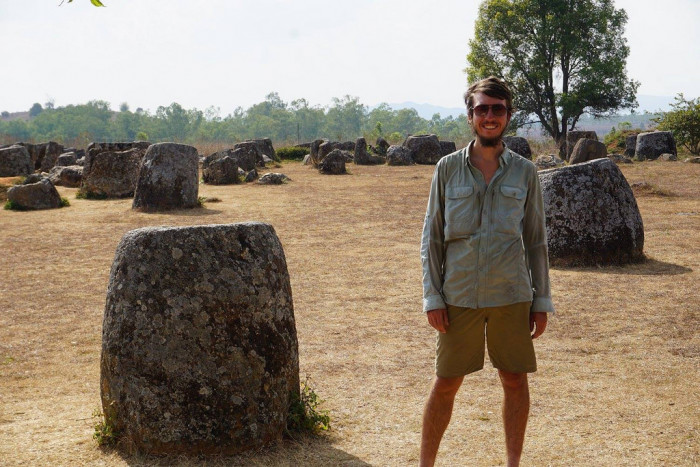 "The four simple steps to bicycle touring, Miller said, are cycling all day, stopping to cook and eat as much food as possible, finding a place to camp for the night, and repeating the first three steps throughout the entire journey," writes Joshua Keeran. "He said whether it was the nomads he encountered living in yurts throughout Mongolia or the people of Tajikistan -- a country just north of Afghanistan that's still recovering from a civil war that took place 20 years ago -- the common characteristic shared by all was unbridled generosity." (at left: Miller in Laos)
Miller say, "They (nomads) really don't have that much, but when I was cycling there…we found that despite people not having that much, they were always going out of their way to invite us into their homes or give us food that they had. (In Tajikistan) they would just give us the apples they had or the walnuts they had, and they didn't want any money in return."
The newspaper notes, "A 2010 graduate of Olentangy Liberty High School and 2014 graduate of DePauw University (Indiana), Miller was teaching English to elementary and middle school students in a small fishing village in southern Japan prior to deciding to begin his quest to see the world atop a bicycle. Miller said he was inspired to embark on the journey, in part, by his parents, Scott and Laura Miller. 'My parents have a picture from when they went bicycle touring in Ireland when they were in their 20s hanging up in the house,'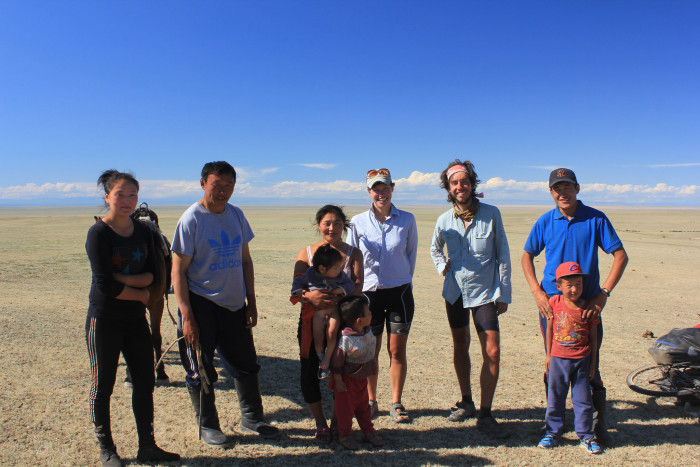 he said. 'I grew up looking at it every day and thinking it looked like the coolest thing.'" (at right: making new friends in Mongolia)
Miller plans to soon begin a second leg of his bike tour in Kathmandu, Nepal, heading west through Europe, Africa, and possibly North America over the next year and a half.
Access the article here. You can follow Miller's trip via his blog.
Back