Derek Empie '95 & Sarah Moore '01 Among Indy's 'Forty Under 40'
February 14, 2012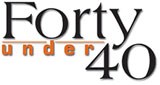 Two DePauw University graduates -- Derek Empie '95 and Sarah S. Moore '01 -- are among the Indianapolis Business Journal's "Forty Under 40" for 2012. The group was selected from among 246 nominations submitted by IBJ readers.
"Criteria for selection include the level of success has achieved in his or her chosen field, their accomplishments in the community, and the likelihood the nominee will stay in Indianapolis and build on those achievements," notes the publication.

Derek Empie, associate general counsel for Indiana University Health Inc., worked for NBC Sports, ESPN and Turner Broadcasting, putting in long hours and realizing that many of his employers' top executives had law degrees. "It was an asset, no matter what you wanted to do," he tells the publication. After earning a law degree, he spent about five years at Baker & Daniels LLP and joined IU Health two years ago. He earned the company's "Key Contributor Award" in 2010 and was an English (writing) major at DePauw, where he was a pitcher on the baseball team.
IBJ's Marc and Martha Allan write, "Empie's volunteer commitments include being a member of the NFL Fitness & Football Subcommittee, which is involved in youth football and fitness activities and operated a run/walk event here during Super Bowl week. He is also on the board of Carmel Dad's Club, which oversees youth sports programs and is on the WFYI Community Relations Advisory Committee."
Read more, and access video, here.
Sarah (Smith) Moore is vice president of strategic growth initiatives at The Mind Trust, a nonprofit education reform organization. She oversees the "Grow What Works" campaign, "an $18 million fundraising initiative to invest in the most promising education reform organizations in Indianapolis," notes her profile. "Eighty percent of the

money raised for Grow What Works is earmarked to scale the success of the education groups that have had the most impact in Indianapolis thus far: Teach for America, The New Teacher Project, College Summit and Stand for Children, and two that have been developed through Mind Trust's Educational Entrepreneur Fellowship program, Teach Plus and Summer Advantage."
Moore, who was named the Leukemia & Lymphoma Society's "Woman of the Year" in 2010, says she is committed to helping "a cause greater than myself." She was a communication major and Management Fellow at DePauw.
You'll find more information here.
View the "Forty Under 40" Class of 2012 at IBJ's website.
Source: Indianapolis Business Journal
Back