Iowa State U Paper Notes Leslie Odom Jr.'s DePauw Visit
March 29, 2017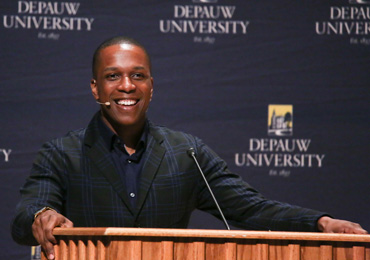 "Tony Award winner Leslie Odom Jr. will give a lecture titled 'Hamilton and the Road to Success: In Words and Music' at 7 p.m. Wednesday at Stephens Auditorium," reports Iowa State Daily. Iowa State University's newspaper points out, "Odom spoke at the University of Iowa and DePauw University in Greencastle, Indiana, in a series of events and will perform with the Boston Symphony Orchestra and at the Ravinia Jazz Festival in Highland Park, Illinois, this summer."
Access the article here.
Odom came to DePauw on October 20, 2016 for a Timothy and Sharon Ubben Lecture, "Finding Your Personal Spotlight". After speaking to a crowd of about 1,000 in Kresge Auditorium, Odom performed two songs,
accompanied by pianist Michael O. Mitchell, a 2002 graduate of the DePauw University School of Music and Bonner Scholar and musical director of Odom's band.
A Tony winner for best actor, Odom told his DePauw audience, "I bet there's a lot of people in here that feel like you're capable of something truly great. And there's something in you that feels like, 'I think I could do something special.' But if you're not given the opportunity, if you never get the key, if somebody never shows you how to access it, you could die with it sort of locked inside. And so what Lin(-Manuel Miranda, creator of Hamilton) did for me was he showed me what I was capable of -- I didn't even know that."
Read more in this summary of the event.
Odom's DePauw visit began with a session with student media, which can be seen below.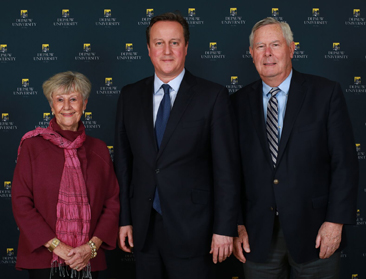 Established in 1986 through the generous support of 1958 DePauw graduates Timothy H. and Sharon Williams Ubben, the Ubben Lecture Series was designed to "bring the world to Greencastle." The series has presented 106 events. (at right: Sharon and Tim Ubben with David Cameron)
This academic year has also included speeches by legendary civil rights leader and presidential adviser Vernon E. Jordan Jr., a 1957 graduate of DePauw, and former British Prime Minister David Cameron. It is hoped a spring Ubben Lecture will be announced soon.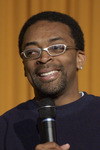 Other previous guests of the series have included Elie Wiesel, Jane Goodall, Mikhail Gorbachev, Margaret Thatcher, Bill Clinton, Peyton Manning, Jimmy Kimmel, Roger Wilkins, Tony Blair, Benazir Bhutto, Spike Lee, Arne Duncan, General Colin Powell and Todd Rundgren.
To view a complete roster of Ubben Lecturers -- which includes links to video clips and news stories -- click here. Video montages of many events are available on YouTube.
Source: Iowa State Daily
Back