Kevin D. Hoesley '11 to Study at Harvard University
May 20, 2014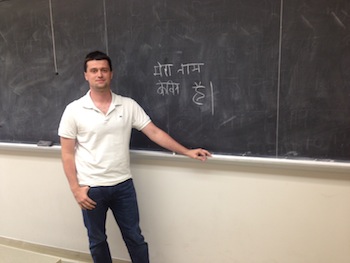 Kevin D. Hoesley graduated from DePauw in 2011, and he is grateful for the continued support he has received from the religious studies faculty to attend graduate school. "The letters of recommendation, assistance and wisdom the department provided me during these past few months reminded me of what drew me to the department in the first place – it's tight-knit, compassionate focus on students and their success," he says.
Since graduating from DePauw, Hoesley has volunteered for Teach for America. This fall he will attend Harvard University to pursue a master's degree in theological studies – a passion he developed as a result of taking Introduction to Religious Studies as a first-year student.
"It was a course that the Registrar's Office put on my schedule when I arrived as I needed one more course," he says. Hoesley had always intended to be an English major but quickly grew to appreciate religious studies as a great way to understand people and culture. He continued to take classes in the department and earned a double major in religious studies and English writing.
Hoesley will work toward a Master of Theological Studies degree at Harvard but explains, "Even though I'm under the banner of Harvard's Divinity School, my work relates more to South Asian Studies – particularly in regard to language rather than theology.
"Within the master's program, I'll work toward refining my understanding of Modern Hindu thinkers and movements from a secular perspective rather than a theological one. Though theology and religious studies may seem like two sides of the same coin, there is a very demarcated – though often blurred – line between the two disciplines."
Hoesley has also received a Foreign Language & Area Studies (FLAS) fellowship to study Hindi at the University of Wisconsin this summer at the South Asia Summer Language Institute (SASLI) program in Madison.
Reflecting on the application process for both the fellowship and graduate school, he says he committed nearly 150 hours of work last fall and winter, in addition to his full-time job as a high school teacher. "Dr. Fuller [Jason D. Fuller, associate professor of religious studies and director of the Asian Studies Program] not only assisted me in every facet of the application process, but also gave me encouragement when I needed it the most."
A religious studies major and former Bonner Scholar, Timothy "Tim" J. Martin '10 will also attend Harvard University in the fall to study Buddhist Ministry and Tibetan Buddhism.
Professor Fuller says the department is thrilled for its graduates and happy to help DePauw maintain its reputation as a top producer of students who attend graduate school.
"I was very fortunate to have the opportunity to serve as adviser to both Kevin and Tim and took great satisfaction in watching them develop their methodological skills in the academic study of religion as they learned to think about Hinduism and Buddhism in sophisticated ways," Fuller says.
"As their understanding of the religions grew, so did their passion for critical inquiry," Fuller says. "Their energy, enthusiasm and insights helped to vitalize the dedicated group of students and faculty who maintain an ongoing scholarly conversation about South Asian religious traditions at DePauw."
Hoesley encourages other students to take a religious studies course. "Take the plunge with Introduction to Religions, and see how it affects the way you view religion and its place in the world," he says.
After earning a master's degree, Hoesley plans to apply to Ph.D. programs in religious studies with a focus in Modern Hinduism.