Prof. Kenney talks about ISIS and the Pathology of Politics in the Middle East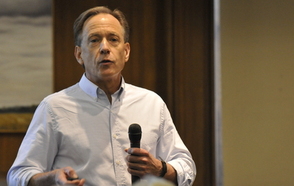 February 9, 2015
ISIS and the Pathology of Politics in the Middle East
Wednesday, February 18, 2015
8 - 9 p.m.
When you register for this event, you will receive an email with a link to view the Virtual Alumni College broadcast via Livestream on February 18.
Alumni, students, faculty and staff are also invited to view the presentation in person at Watson Forum on DePauw's campus.
To register for the event, click here.
About the Lecture:
The Islamic State of Iraq and Shams (ISIS), which renamed itself Islamic State (IS), represents a new generation of global jihadist formation that combines Islamist-Salafi ideology, sophisticated public relations, guerilla warfare, and state-building aspirations. It emerged as a dominant force when the chaos of two failing Middle-Eastern states—Iraq and Syria—allowed an otherwise isolated jihadist militia to reinvent itself and play upon political, economic, and social disillusionment in the region and beyond. The short-term success of ISIS has raised important questions about the political cohesion of nation-states in the Middle East, Western foreign policy in the region and the broader Muslim world, the volatility of global Muslim identity, and the ability of jihadist groups to capitalize on the failures—real and perceived—of modernity.
Contact Information
Office of Alumni Engagement


(877) 658-2586

alumnioffice@depauw.edu

Date & Location

Date: 2/18/2015
Time: 8:00 PM to 9:00 PM

Location: Watson Forum