DePauw Team Places in Global Top 100 in Business Simulator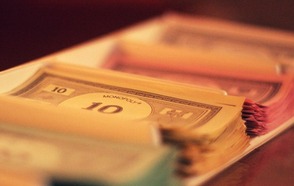 September 22, 2015
Maureen Bailey '16, Cody Campbell '17, Brooke Hasler '16 and Charlie Roberts '16 earned a Global Top 100 ranking for their performance in The Business Strategy Game, an online business simulator in which teams from colleges and universities worldwide manage virtual footwear companies. Their score for the week of Sept. 14-20 was 5th highest among 2,176 competing teams, tying for 39th place overall.
In the game, "students inherit a business that's ten years old, with each business having the exact same product, the exact same production facilities, the exact same markets, the exact same money in the bank account and so on," explains Assistant Professor of Economics and Management Michael "Mick" Risdon, who uses the game in his courses -- this time with a marketing class. "Starting in year 11, the teams begin to change various factors about their business, potentially making as many as about 50 decisions each week."
According to the publisher's website:
Any and all types of competitive strategy—low-cost leadership, differentiation, best-cost provider, focused low-cost, and focused differentiation—are viable options. A company can try to gain an edge over rivals with more advertising or a wider selection of models or more appealing styling/quality or bigger rebates or securing more appealing celebrity endorsements, and so on. It can focus on one or two geographic regions or strive for geographic balance. It can pursue essentially the same strategy worldwide or craft slightly or very different strategies for each of the four geographic regions. It can alter its emphasis on selling branded shoes through footwear retailers or at the company's Web site. It can place more or less emphasis on winning bids to produce private-label footwear for chain retailers.

Each company's performance is based on a balanced scorecard that includes brand image, earnings per share, return on equity investment, stock price appreciation, and credit rating.
Although students only directly compete against others in their class, the game's sponsors collect worldwide data and announce top performers every week. The highest ranking Risdon's students have earned was a global tie for 13th in fall 2013.
"It's the most authentic business game that I'm familiar with, and I think the students find it useful to enhance their business skills," Risdon says.