Lindsay Gay wins Paul Query Prize for Poetry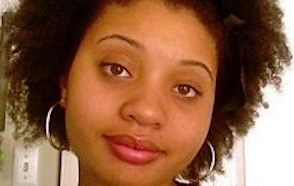 May 1, 2015
Big congratulations to our graduating major, Lindsay Gay, who's been awarded the Paul Query Prize for work on her chapbook, "Bloodwork."
Presented annually to the senior creative writing student who is an outstanding poet, the prize comes with publication of a special section in The Midwestern Review.
In introducing Lindsay at her public senior reading, Professor Eugene Gloria described her as "an activist poet… an avid reader of the classics from Sappho to Basho and contemporary poets like Adrienne Rich, Gwendolyn Brooks, and Harryette Mullen…[with] a natural eye for the poetic line… Her writing style is spare and eclectic, focusing on topics such as women's bodies, mental illness, and mythology. Lindsay sees herself in equal parts poet and dancer, driven by her inseparable passions for the arts and justice."
Next steps for Lindsay include an internship in New York City and maybe graduate school at some point … we're proud of her and wish her all the best in whatever path she chooses.