Presenting our 2016 Graduates!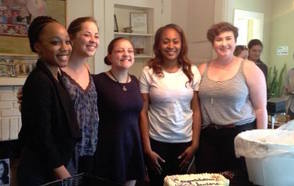 June 8, 2016
Here they are just after presenting their senior theses at the Women's Center. Left to right, they (and their topics) are:
Taylor Jones, "Billie Holliday: The Selling of Black Culture"

Hanna Viti, "Queer Research: Deconstructing Compulsory Heterosexuality and Coming to Queer in the Midst of Social Conflict"

Hanae Weber, "'The Kindest of Women': The Search for Agatha Biddle"

ShaKira Gibson, "Deconstructing Black Hegemonic Masculinity and Its Potential Impact on Women: An analysis of Steve Harvey's 'Act Like Lady, Think Like A Man'"

Caitlin Qua (Art History major and WGSS minor), "Medieval Nuns and Christ: An Analysis of a Queer Relationship."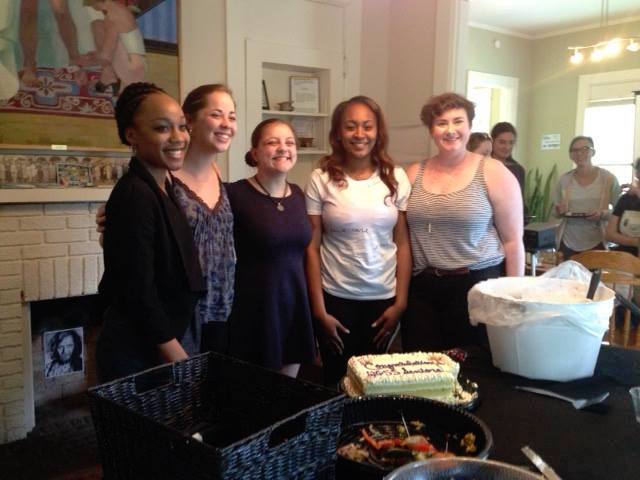 It was a fascinating and varied afternoon to cap off a great year. Others who participated in the WGSS senior thesis workshop (2015-16) include Megan Bailey, who was working on an honors thesis, "No War, No Peace: Women's Experiences in the Democratic Republic of Congo"; Theresa Carper, whose senior thesis is a comedy called "A (Wo)man's Work" (it's about young women in the tech industry); Education major Malcolm Steele, "How do Students Construct 'Use Value' at a Midwestern Liberal Arts Institution?" and photographer Vicky Lu Bai, whose conceptual/visual art project was titled, "Fake Photoshop Commercial."