Artist Wafaa Bilal
February 15, 2017
On Thursday, Feb. 23, at 8:00 PM in Peeler Auditorium, the artist Wafaa Bilal will be on campus to discuss the film Returning Fire, and his video and installation art project Domestic Tension (a.k.a. "Shoot an Iraqi").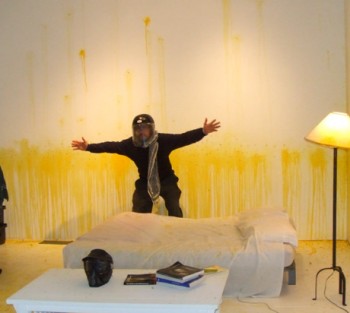 Bilal, who teaches art at New York University's Tisch School of the Arts, is an Iraqi-American artist. His most well-known work, Domestic Tension, involved living in a makeshift room in an art gallery in Chicago for a month in 2007, with a paintball gun trained at him. People could log onto a website around the clock and control the gun remotely to fire paintballs at the artist, as though they were playing a first person shooter game, or controlling drone strikes in the ongoing Iraq war.
Over the course of the month, eager visitors to the site clicked their mouse to fire at Wafaa approximately 60,000 times.
While the project represented a violence that was only barely "virtual," and the chatroom which Bilal maintained would sometimes elicit a virulent Islamophobia, the artist nonetheless emphasized the goals of communicating across cultures and involving people in a discussion of the human cost of modern warfare. Nonetheless, the project took a heavy toll on Bilal. The work also had its personal side, as Bilal was himself a survivor of Saddam Hussein's brutal regime; the war to depose Hussein made a refugee of Bilal and took the life of his brother.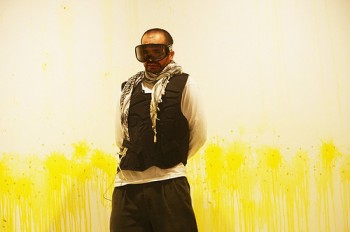 The film Returning Fire, which includes some discussion of the "Shoot an Iraqi" project, looks at war-themed video games and the militarization of the American entertainment industry, and also at timely issues like the use of the fear of terrorism to drive the militarization of American culture and constructions of masculinity. After the screening of the film (about 45 minutes), there will be a panel discussion with Wafaa Bilal and professors Mona Bhan (Sociology and Anthropology), Jeff Kenney (Religious Studies), Harry Brown (English), and Dan Solberg (Art and Art History).

Professor Bilal's visit is made possible by The Ted and Katie Blair Ukrop Visiting Artists Fund, with support from the Peace and Conflict Studies Program