Artist Tschabalala Self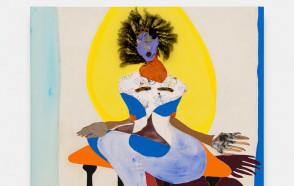 January 26, 2018
On March 15th, the Ted and Katie Blair Ukrop Visiting Artists Fund and the Art and Art History Department is pleased to welcome Tschabalala Self to DePauw University to talk about her recent work.
In her bold, confident and vibrant paintings and works on paper, Self plays inventively with figuration, deconstructing and recreating the Black female body, using various techniques, including collage. Pieces of collected fabric – sometimes African or African-inspired cloth given to her by her mother – and paper or perhaps sections of an earlier unresolved work, are sewn directly onto a work. The fractured figure so created seems to assert its own self-defined identity, and thereby fulfil the artist's intention. Working in this way with mixed-media allows Self to blend fact with fiction, reality with imagination as she explores how the Black female body functions as a social and political symbol.
"The fantasies and attitudes surrounding the Black female body are both accepted and rejected within my practice, and through this disorientation, new possibilities arise," Self has said. "I am attempting to provide alternative, and perhaps fictional, explanations for the voyeuristic tendencies towards the gendered and racialized body; a body which is both exalted and abject." As Self told W magazine in an interview last year, ""A stereotype is a flat character with two dimensions … And I can confront those stereotypical images by making round, multidimensional characters with complicated desires, inner dialogues, and psychology. That's my contribution to confronting racism or sexism—by trying to show a real spectrum of human emotion."
Tschabalala Self (b. 1990 in Harlem, USA) lives and works in New York and New Haven. Selected exhibitions include: Trigger: Gender as a Tool and a Weapon, New Museum, New York (2017), Tschabalala Self, Tramway, Glasgow (2017); Tschabalala Self, Parasol Unit Foundation for Contemporary Art, London (2017); Desire, Moore Building, Miami (2016); The Function, T293, Naples (2016); A Constellation, Studio Museum Harlem, Harlem (2015); Tropicana,The Cabin, Los Angeles (2015).
Public Event - Lecture
4:15pm,Thursday, March 15th
Peeler Auditorium, DePauw University, 10 West Hanna Street, Greencastle, IN 46135
free and open to the public
Contact
John Berry, Department of Art and Art History
johnberry@depauw.edu
812-327-2268