Karen Connell Speaker Series Artist Hui-min Tsen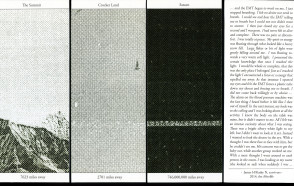 February 5, 2018
February 3, 2018
On April 11, 2018, the Karen Connell Speaker Series Fund and the Department of Art & Art History, in partnership with the Asian Studies Program and Women's, Gender & Sexuality Studies, welcome Hui-min Tsen to DePauw University. The Chicago-based photographer plans to share insights on her most recent projects, which focus on urban studies of her home city and on interrogations of perception.
Hui-min Tsen's work explores the act of exploration itself with an emphasis on the individual's everyday relationship with place, wonder, and the unknown. Through a series of projects ranging from boat-building to walking tours, she has sought to cross the distance between here and over there by reaching for the myth and mystery present in our everyday landscape.
In the Pedway guidebook published to accompany her 2013 series "On the Trail of a Disorderly Future; A Chicago Pedway Tour," Tsen guides readers towards a richer perception of their urban surroundings. "One glance at the anarchic nature of Chicago's Pedway is proof that the world will never reach the stable ideal dreamt of by architects, urban planners, and social activists. As you walk amidst the results of desire and imagination, try to appreciate the Pedway for the futuristic space it really is. Look carefully at the walls and architecture of the tunnels and you will see, just as a geologist can read the rocks and formations of the Grand Canyon, the Pedway tell its own story of futures that were never fully realized. The walking tour unfolds in three stages, leading you through the history of urban development from the Renaissance through the industrial revolution to the suburbs; from safety and fear to mass culture and comfort. So, let us now step into the story of yesterday's tomorrows."
Hui-min Tsen holds a BFA from Tisch School of the Arts, and an MFA in photography from the School of the Art Institute of Chicago. She is an active member of the Chicago arts community, showing and publishing with Hyde Park Art Center, Chicago Artists Coalition, MDW Fair, and Sector 2337, among others. Her project "On the Trail of a Disorderly Future; A Chicago Pedway Tour" was on the top ten list of public art in NewCity and the accompanying guidebook was published by Green Lantern Press in 2013. She currently teaches photography at Wright College and Loyola University.
Public Event – Artist's Talk
4:15pm, Wednesday, April 11
Peeler Auditorium, DePauw University, 10 West Hanna Street, Greencastle, IN 46135
free and open to the public