Dr. Donna Jurdy (Association for Women Geoscientists Distinguished Lecturer) presents two talks at DePauw
February 12, 2018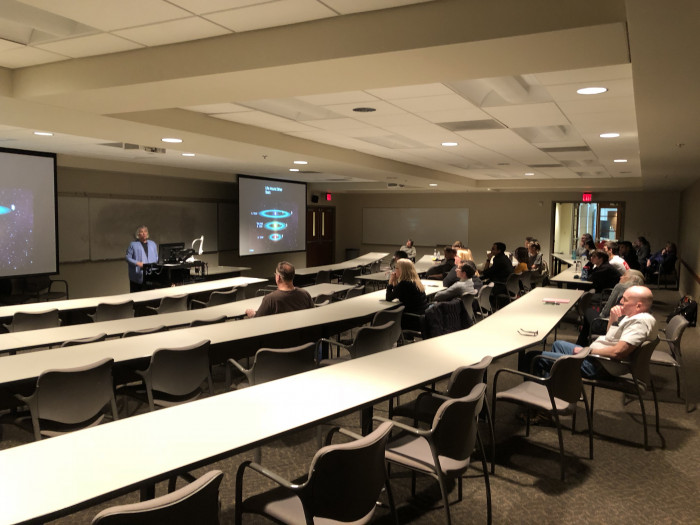 Dr. Donna Jurdy, Distinguished Lecturer for the Association for Women Geoscientists and Professor in the Department of Earth and Planetary Sciences at Northwestern University, visited DePauw on February 12 & 13, 2018 in an event sponsored by the Geology Club, the Astronomy Club, and the Society of Physics Students (and co-hosted by the Department of Geosciences, the Department of Physics & Astronomy, and Women in Science).
Dr. Jurdy, along with Mackenzie Cremeans '14 (president-elect of the Association for Women Geoscientists) led discussions for a Women in Science lunch about future career opportunities for female science students. Dr. Jurdy also gave two technical presentations during her visit: "SETI: The Search for Extraterrestrial Intelligence - Perspectives of an Earth Scientist" and "Mars Magnetic History". Both talks were very informative and showed the need for future human exploration endeavors in space.
Students from the Geology and Astronomy Clubs and the Society of Physics Students also shared dinner with Dr. Jurdy and Mackenzie Cremeans '14 at the Almost Home restaurant in downtown Greencastle and then accompanied her on a visit to the McKim Observatory.
The student-led clubs and Women in Science also hosted 'Space Day' in honor of Dr. Jurdy's visit on the morning of February 13th in the Julian Science and Math Center atrium that included student research posters, a demonstration of crater morphology using the Dept. of Geosciences AR sandbox, a video of Joe Allen's '59 work as a space shuttle pilot, and the newly upgraded meteorite display with samples of lunar and Martian meteorites. In addition, Dr. Jurdy and the students were treated to an early afternoon constellation show in the Dept. of Physics and Astronomy's Star Lab planetarium.
We would like to thank both Dr. Jurdy and Mackenzie Cremeans '14 for sharing their time and perspectives with us!