Community-Based Art Exhibit To Open
March 7, 2019
Community-Based Art Exhibit To Open
At Peeler Center Visual Arts Gallery
We're Open, Come In: The House Life Project
March 7 – April 9, 2019
Greencastle, IN – From March 7 through April 9, 2019 the Peeler Art Center Visual Arts Gallery will host We're Open, Come In: The House Life Project, a collaboratively developed exhibition of community engaged art. From 2015 through 2017, the House Life Project (HLP) reimagined abandoned houses on Indianapolis's Near Eastside as hubs for artistic practice and community collaboration. Founded by Meredith Brickell, Associate Professor of Art at DePauw University, this community-based art initiative was a flexible and collaborative project where artists and neighbors formed new relationships, strengthened existing ones, and pooled their creativity in order to examine difficult questions related to the changing neighborhood. We're Open, Come In transforms the gallery into an inclusive and welcoming space that invites visitors to learn about the HLP, its methods, and its community. Through an array of artworks and interactive installations, the exhibition will spark conversations about neighborliness, housing inequity, and the ways in which art can and can't facilitate social justice.
Brickell says, "Preparing for this exhibit gave us time to reflect on the project's core values and identify the critical questions that still remain. This exhibit and the related programming are an invitation from the House Life Project—we hope that members of the DePauw community will contribute their own perspectives to the ongoing conversation about issues related to vacant properties and neighborhood change."
We're Open, Come In features creative projects in a variety of media including sculpture, painting, installation, and video. These works were made by artists who have exhibited internationally, by skilled makers without formal art training, by children, and by people who do not identify as artists. Nearly all of the objects on view reflect a collaborative creative process that challenges traditional notions of who counts as an artist.
We're Open, Come In was curated by Laura Holzman, HLP Curator and Associate Professor of Art History and Museum Studies at IUPUI, in collaboration with members of the HLP community and IUPUI Museum Studies students. Holzman said, "HLP community members helped shape the overarching messages and themes of the show. They also weighed in on which objects were included and how those objects were presented. Students in my spring 2018 Exhibit Planning and Design course worked with me and HLP folks to develop proposals for the scope and visual identity of the show. It's complicated to make an exhibit in this way, but collaboration was at the heart of the HLP, so it would have been inappropriate to curate the show without that same spirit of shared authority."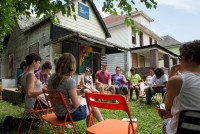 Just as the HLP was a place for people to connect with one another over drinks, snacks, and art, visitors to the gallery will be invited to interact with the exhibit and with each other. There will be opportunities to contribute to installations, make art, or curl up with one of the critical texts that informed the HLP's projects. While visitors linger in the gallery, they can quench their thirst at a snack bar inspired by the refreshments at the HLP's weekly porch parties. Through these activities, the objects on view, and a series of public programs, We're Open, Come In invites new audiences to join the ongoing conversations that occurred in and around the HLP.
HOURS AND LOCATION
The galleries at the Richard E. Peeler Art Center are open Monday-Friday 10 am – 4 pm; Saturday 11 am - 5 pm; and Sunday 1 – 5 pm, and are closed during University breaks and holidays. Please visit our website at depauw.edu/galleries for more information about special events associated with this exhibition. The exhibition is free and open to the public.
PROGRAMMING RELATED TO THE EXHIBIT
Visual Arts Gallery at DePauw University, Greencastle, IN
All events are free and open to the public
Opening reception and gallery talk
Meredith Brickell, HLP founder and project leader, and Laura Holzman, HLP curator
March 7th, 4:15pm
VOCAB: spoken word performance and workshop
Tatjana Byrd with other VOCAB artists
March 11th, 7-9pm
Panel discussion
Art and Community—the interdisciplinary approach of the House Life Project
Meredith Brickell, Laura Holzman, Katy Renn, and CoraLyn Turentine. Moderated by Danicia Monet.
March 18th, 4:15pm
For more information about these free events associated with the exhibition, please visit:
https://depauw.campuslabs.com/engage/organization/artcollections/events